The pelvic floor
Firstly, in order to tackle pelvic floor issues, you will need to know what the pelvic floor actually is. Pelvic floor muscles are the layer of muscles that support the pelvic organs and span the bottom of the pelvis. The pelvic organs are the bladder and bowel in men, and bladder, bowel and uterus in women.
In all honesty, I don't recall being particularly aware of, or concerned about my pelvic floor prior to my first pregnancy. It was, however something I became concerned about during that pregnancy, largely after reading a story in a magazine about a woman in her twenties who was left incontinent after her first child was born.
Now, this was one of those extreme stories but still, it got me reading about the pelvic floor, how important it is and how to exercise it.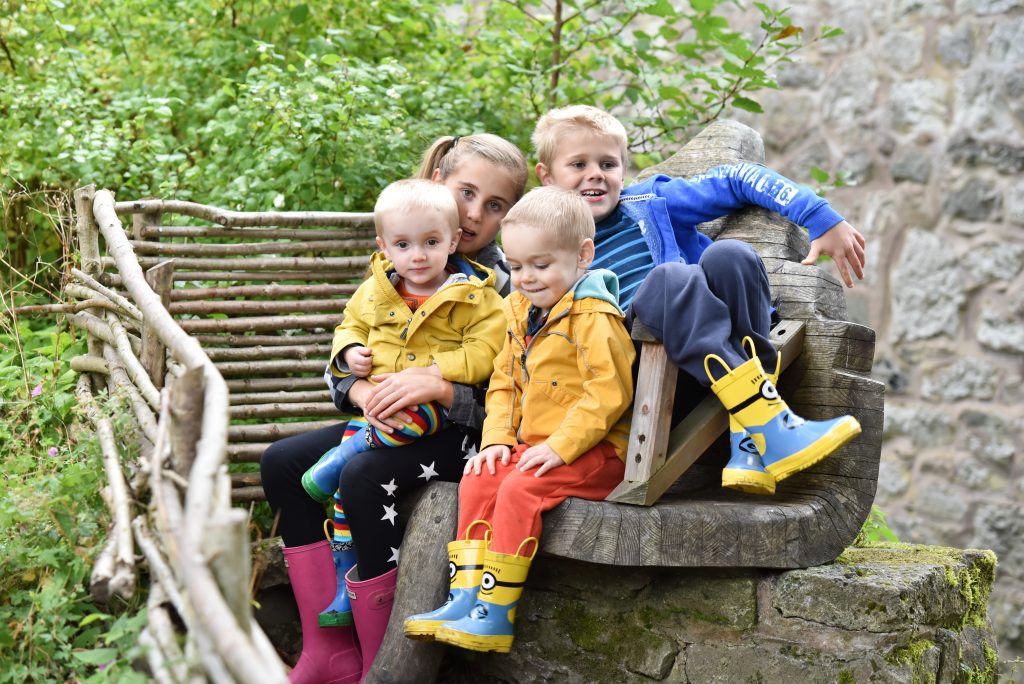 Why we need to exercise the pelvic floor
Do you do pelvic floor exercises? How often do you do them? Did you exercise your pelvic floor whilst pregnant and did you stop doing the exercises after the birth of your children? Are you are concerned about the strength of your pelvic floor?
These are all really important questions, particularly if you are someone who has had children or are pregnant. One in three women will be impacted by some form of pelvic floor issue, most commonly brought on by pregnancy, obesity, and/or menopause. Weakened pelvic floor muscles and tissue can cause millions of women to suffer gynaecological health challenges, including stress incontinence.
Your bladder is kept in place by a number of muscles in your pelvic floor. As long as these muscles function well, you're in total control of when urine is allowed to come out. It's when the muscles lose their resilience that leaks might start to happen. That's why one of the most important things with managing incontinence is to learn how to isolate your pelvic floor muscles and exercise them regularly. It's the one thing that works best, above all other efforts, when restraining urinary leakage.
One of the things people will say about pelvic floor exercises is that they "forget" to do them. I totally see how that happens and to stop me forgetting, I worked out a little routine with mine to remind me to do them.
Every time I am driving and I stop at traffic lights I do my pelvic floor exercises. I've been doing this for 11 years now!
No one can tell, as pelvic floor exercises are 'invisible' – at least they are now – when I was first learning to do them my eyebrows went up as I squeezed! Anyone else have this problem?
How to exercise the pelvic floor
To strengthen your pelvic floor muscles, sit comfortably and squeeze the muscles 10-15 times in a row. Don't hold your breath or tighten your stomach, buttock or thigh muscles at the same time. When you get used to doing pelvic floor exercises, you can try holding each squeeze for a few seconds.
What about when you need more help?
Sometimes being religious with your pelvic floor exercises isn't enough. There are devices out there that can help you with this, and help you to avoid the need for invasive surgery.
Joylux, Inc. is a global health technology company creating innovative pelvic floor health devices and products to transform women's intimate health and empower women to live their best lives.
Joylux has recently launched vSculpt®, a revolutionary device to address the discomfort and embarrassment suffered by millions of women with pelvic floor issues.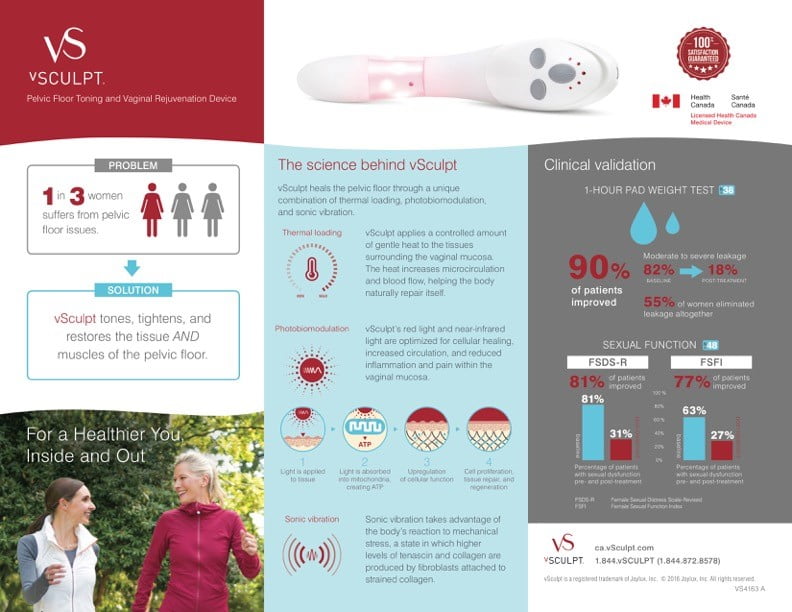 After more than three years of development, extensive testing, clinical studies, and recent attainment of its CE mark for medical devices, vSculpt has arrived in Europe.
The technology of combining light energy with thermal heat and sonic vibration is complex, but the solution is simple. Women gain control and confidence as they improve the health of their pelvic floor in just 10 minutes every other day over the course of six to eight weeks, from the comfort of their own home.
vSculpt has been clinically validated to improve stress incontinence, strengthen the muscles of the pelvic floor, and regenerate the vaginal tissue in as few as 45 days, leading to a better quality of life. In a 2016 independent clinical study, study participants reported the following:
90% experienced a reduction in bladder leakage,
82% improved their pelvic floor muscle strength, and
81% saw an improvement in sexual function.
Retailing for huge £375, vSculpt is available at www.currentbody.com and www.vsculpt.com. vSculpt PRO, a professional model with increased power, treatment times, and features, and a RRP of £475, will be sold exclusively through medical practices. An accompanying Photonic Gel, which aids in accelerating the light and maximizing the benefits of vSculpt, is also available and retails for £25.
Is it worth it?
Now – I know what you are thinking…how much? I totally get that and it's a really tricky one.
If you've exercised you pelvic floor from day one of your pregnancy, continually done the exercises and are very conscientious about getting the exercises done, and more importantly if that is working, then no, don't even contemplate making such a huge investment at this stage.
This does work well, which you would hope for at that price. So if you are someone who is struggling with your pelvic floor and either contemplating expensive surgery, or paying on average £1,000 per year for incontinence protective sanitary wear, you should absolutely try this device! You could totally transform you life and save yourself money in the long run.
It's easy to use, but the most valuable feature is this speed in which it can be used, just ten minutes every day, and you can make a difference to your pelvic floor in just a few weeks.
There are other devices out there of course, but from what I can see, I think this is the one that has proven the most effective in terms of results for people.
I'd be intrigued to see how someone with a very weak pelvic floor to start with rated it and how much it improved their situation. As I have always exercised mine, I don't feel that after four pregnancies and four vaginal deliveries it's too bad. I still remember to do the exercises and the only time I have to think about it is when I'm on the trampoline or perhaps the odd sneeze!
What's your pelvic floor story? Is the vSculpt something that you think could help? Let me know in a comment below and remember what to do the next time you get to traffic lights!