Thinking back to when we expanded our family to a family of six, we were on the look out for a bigger car! We obviously needed a seat for everyone but also needed space for a pushchair and all the other paraphernalia that comes with having four children…including a guitar played by our eldest.
Here's part one of our hunt for a suitable family car, the Mitsubishi Outlander. You can find out more specific details over on their website.
Now firstly this 4×4 looks GOOD. Having driven the Kia Sportage for a few years, there are a lot of similarities and the first is the overall look of the car. I think this looks really smart and quite sporty…it's a good looking car that you feel good in!
The finish on the car is good and it looks and feels well made. There are some really useful features such as the mirrors automatically coming in when you lock the car. This means you don't have to remember to do this (something I did in the Kia Sportage) and the mirrors are safe from shoppers or other cars etc. I really like this feature.
When all the seats are down (the two extra boot seats) the boot is huge and there is plenty of room for a large pushchair and bags etc… even the guitar! With four children you could use this configuration on the school run.
You can see that even with the pushchair in there is plenty of space. This is a Maxi Cosi Mura and has quite a wide wheel base and comes in two parts.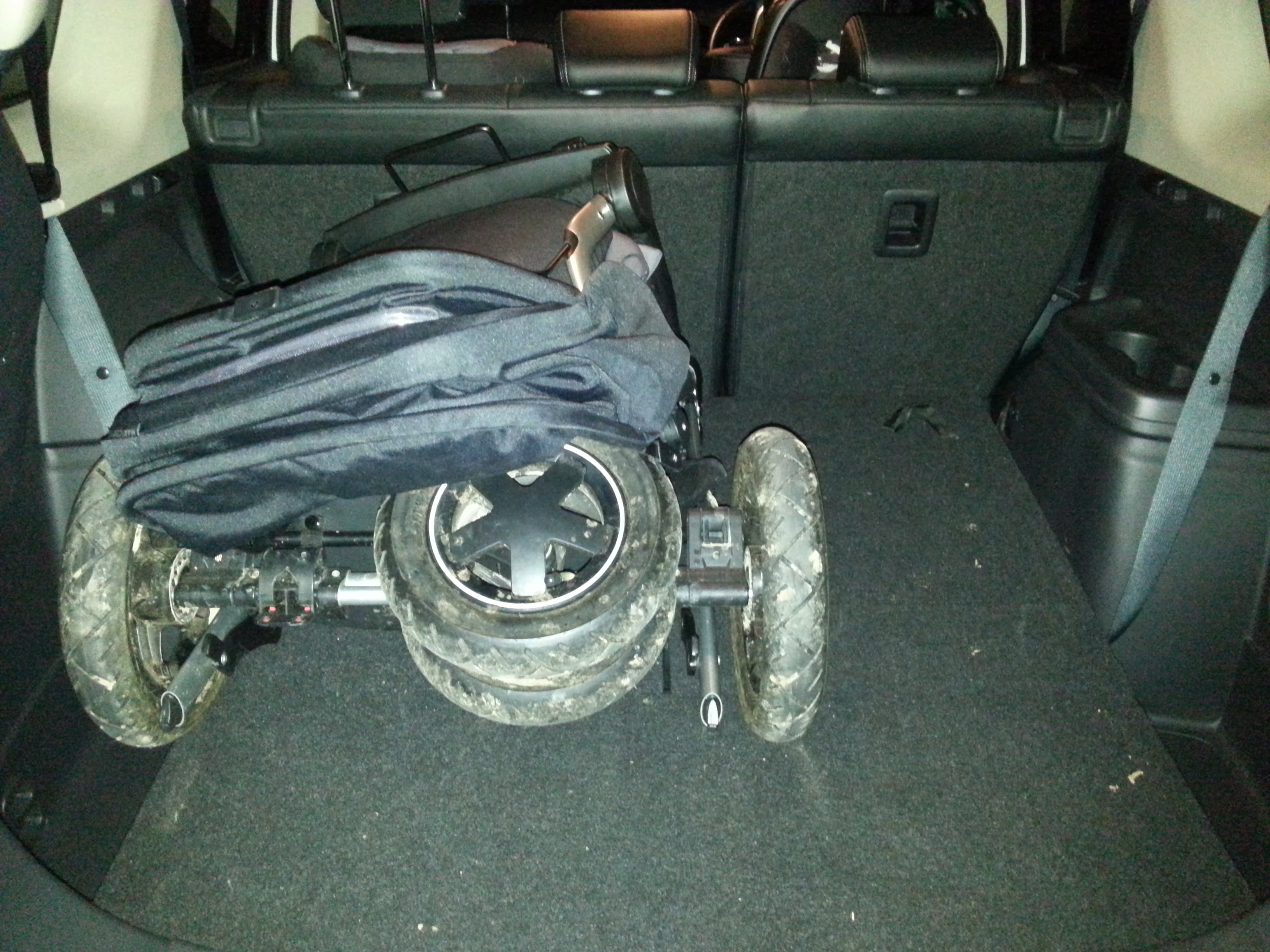 With one of the boot seats up it looks like this. I could still fit the pushchair in the boot but had to take it out to get the child out of this seat which is not ideal. So if we were going anywhere as a family this is how it would be. There wouldn't be space for any luggage so we would have to have a roof box.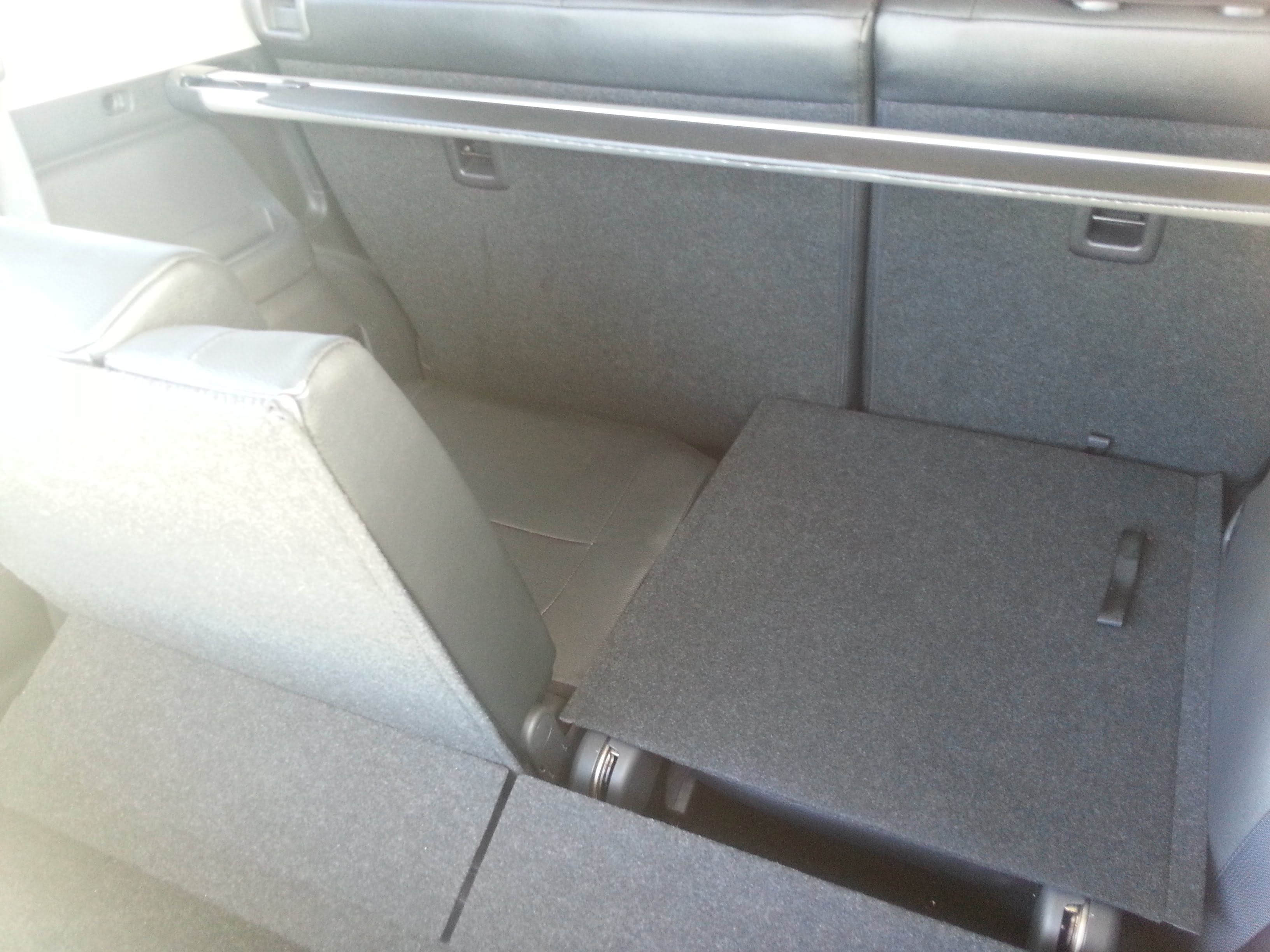 A nice feature of the rear seats is the cup holders. Also the seats themselves are very comfortable. A downside however is the lack of legroom so you could only really travel short journeys with these seats in use. Even my skinny 8-year old was struggling for legroom at the time.
The middle row of seats looks like this – the middle seat is not a full seat so if you need to use that it is only really possible for someone very slim and small to sit in the seat comfortably. If you have two isofix baby seats in as well like we did, this will certainly be the case. However, a BubbleBum booster fits well in the space. With just two children in here you would have loads of space.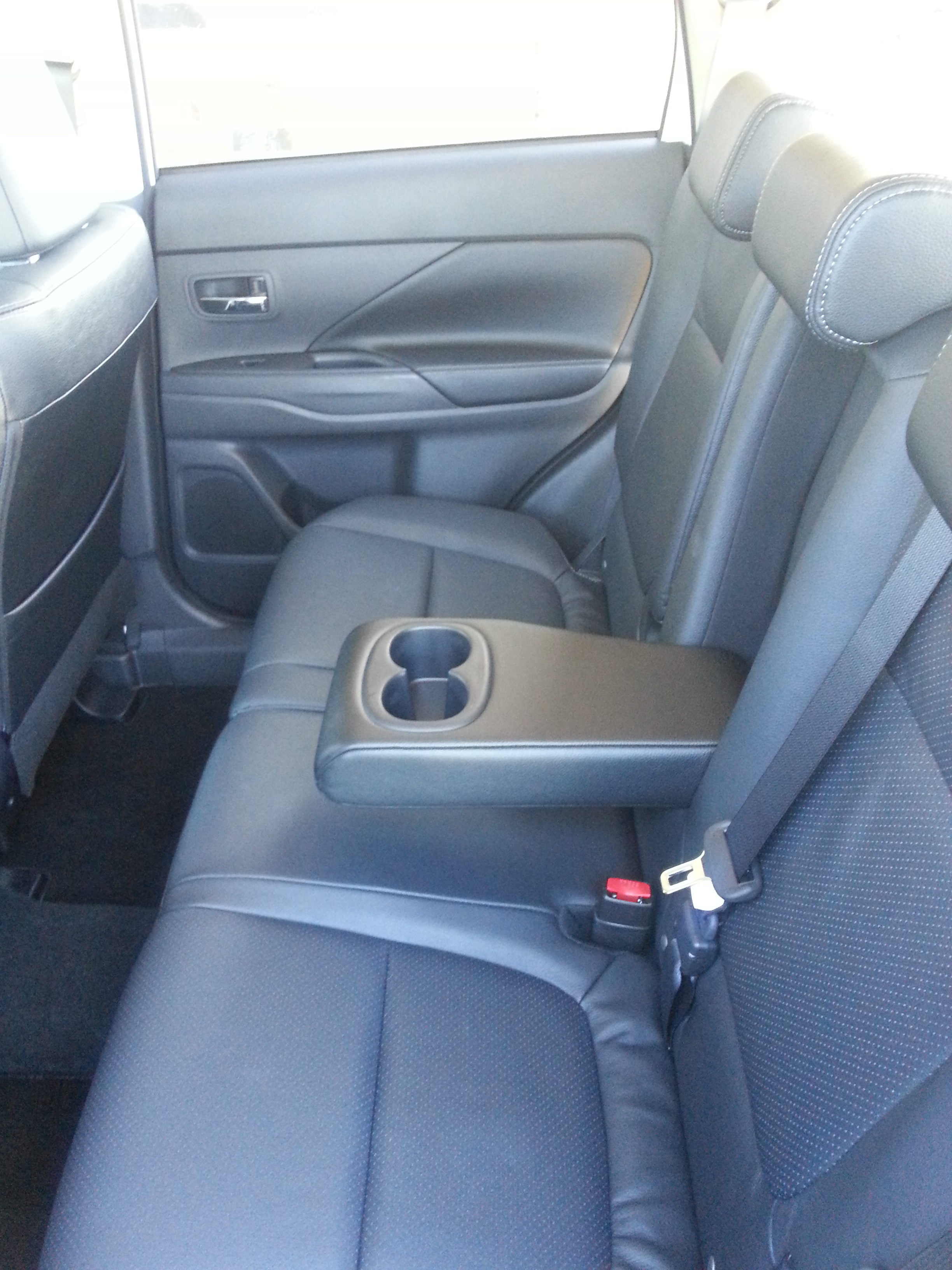 The legs on the Isofix car seat bases take up a huge amount of space in the foot wells, see below. This means it is difficult for a child to get in and out of the middle seat, again not ideal.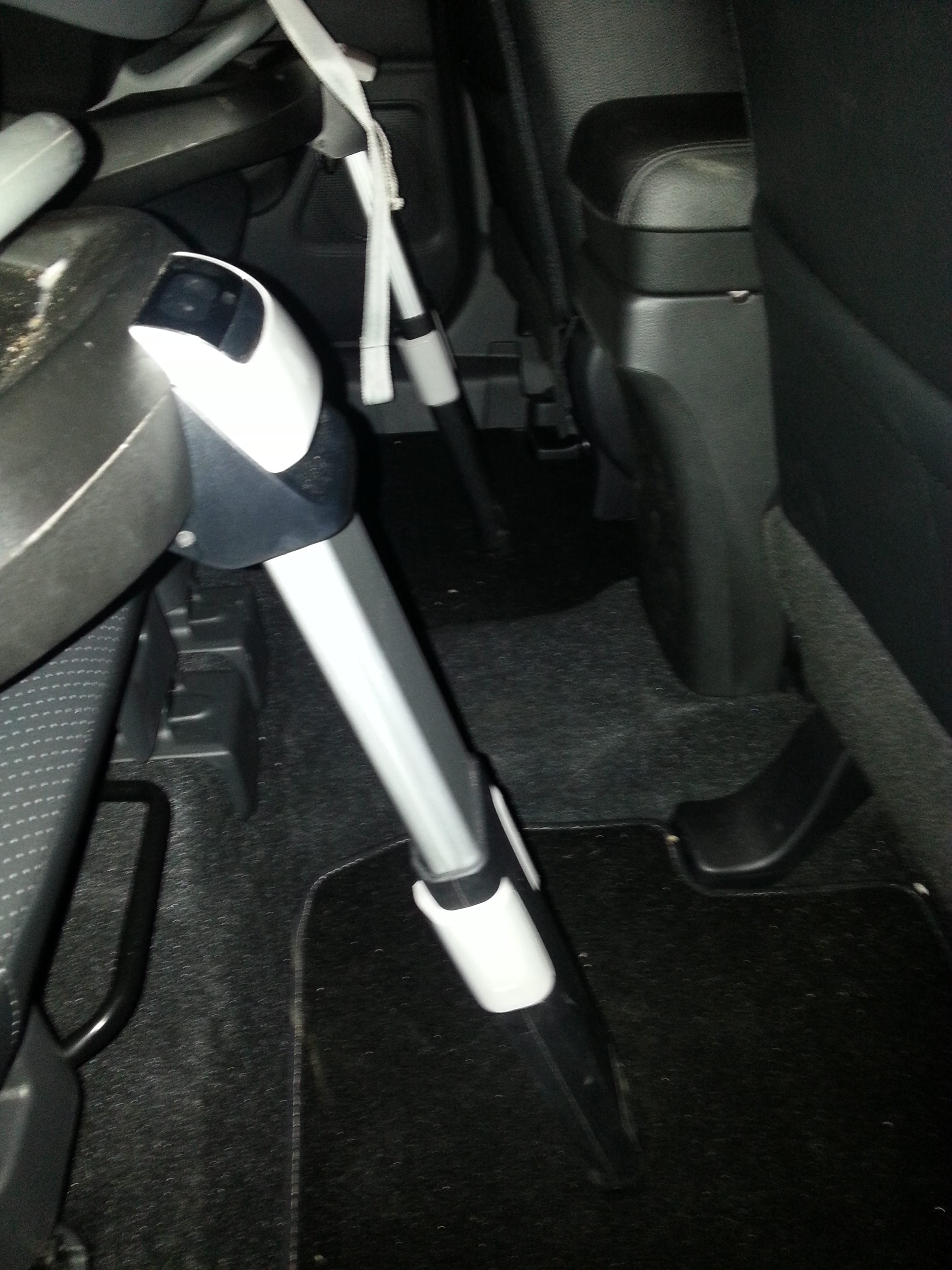 With these car seats in the back as well there is not much space between the seat and the back of the front row of seats, which means it is a squeeze to even fit a change bag in the back.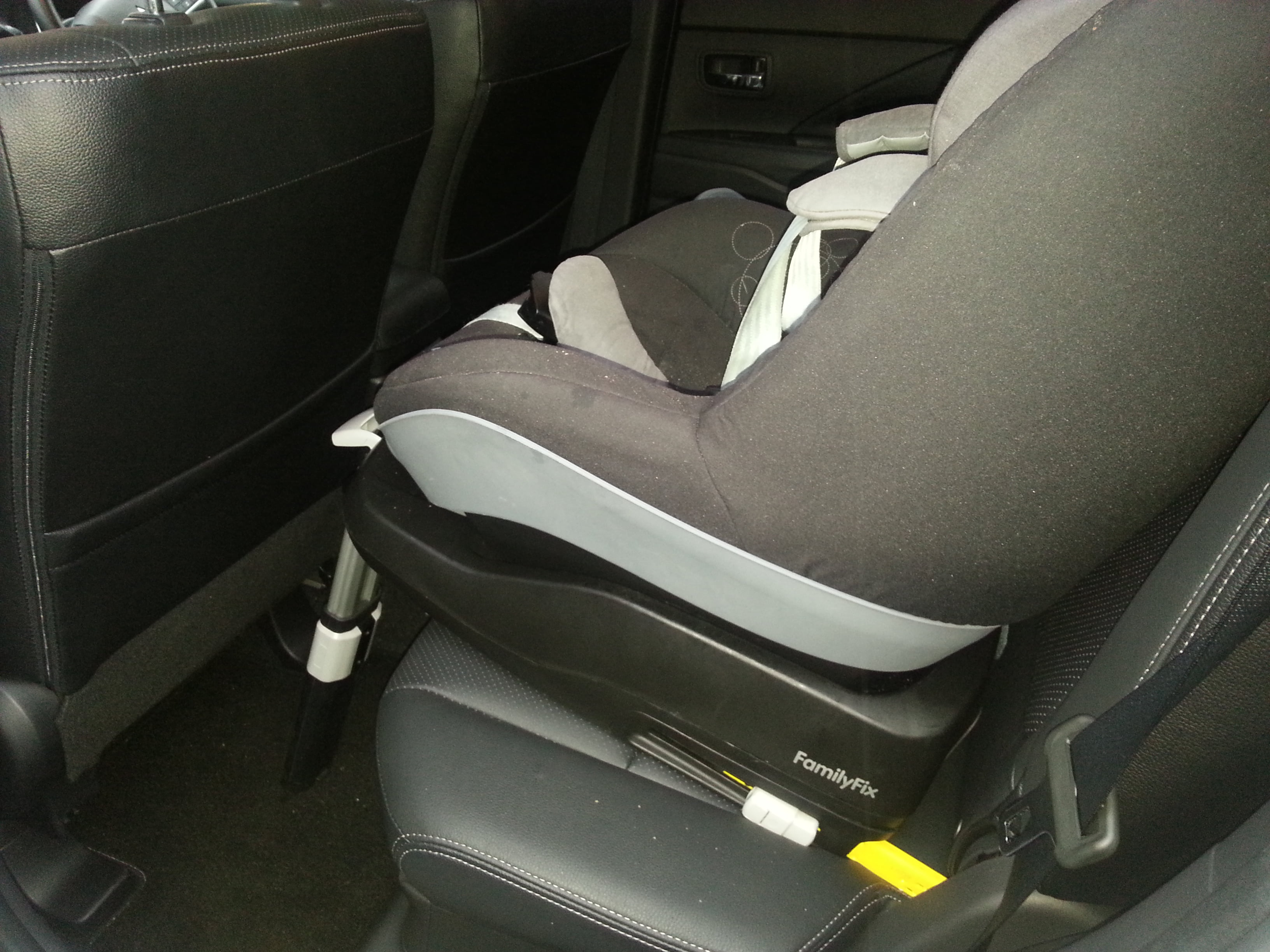 The interior of the car is really smart and wipes clean very easily, great with little ones. This one was automatic which also made it a really easy drive.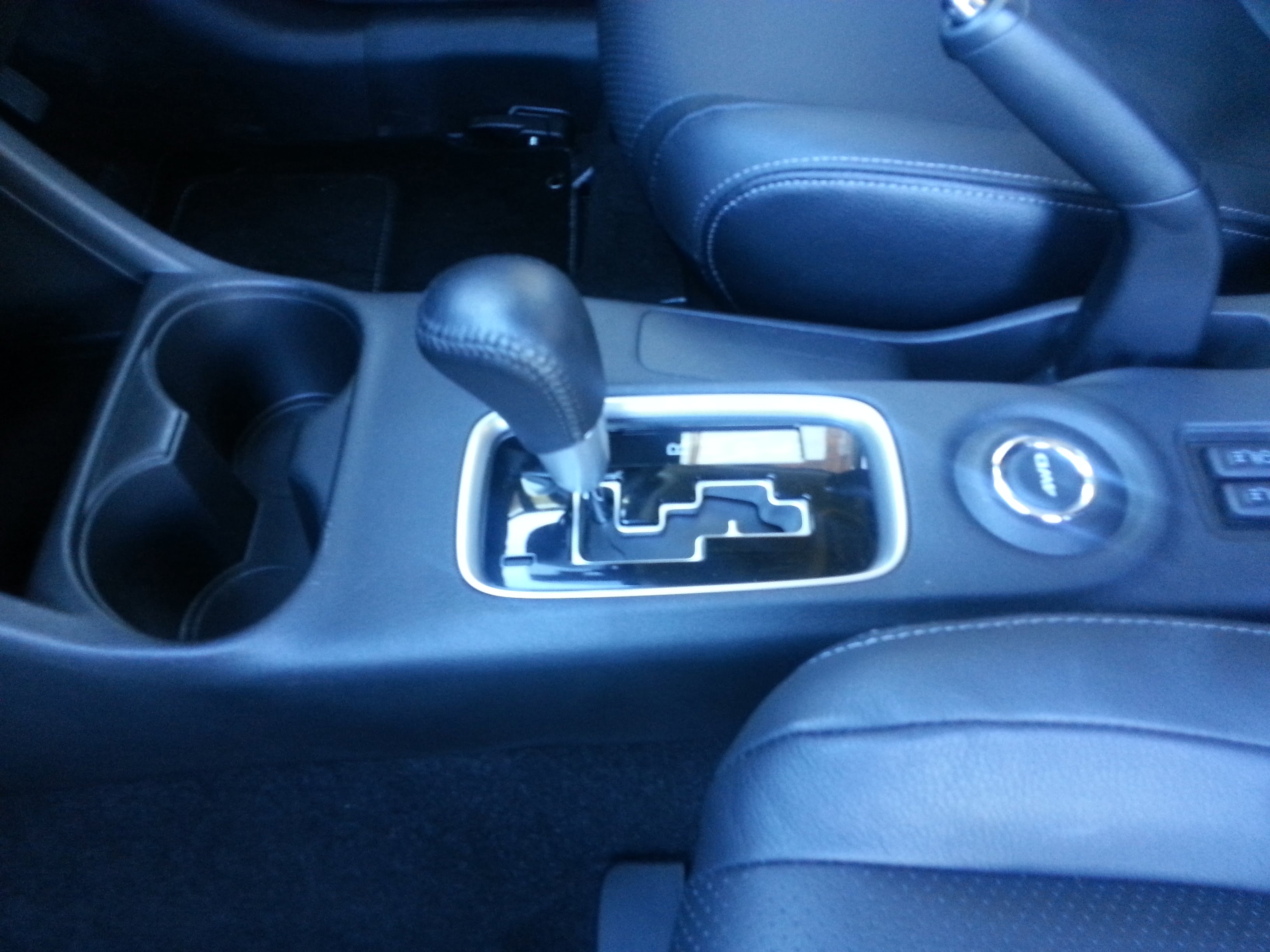 There are loads of interior storage pockets which actually hold quite a lot, and the door pockets are nice and deep. Things like this I find to be really useful, especially on long journeys with children when you need things like drinks and wipes ton hand.
I have put together a more detailed list of the pros and cons of the Outlander as a large family car below:
Pros
Comfortable
Good soft leather seats
Looks nice
Stylish
Good visibility- better than the Kia Sportage
Good size mirrors
Reasonably quiet in the cabin at motorway cruising speeds
Generous boot space when the seats are down
Lots of cup holders in good locations large enough to fit a sports bottle
Decent height inside the cabin again better than the Kia Sportage
Deep door storage pockets
Cruise control that detects safe travelling distance – great in average speed cameras zones!
Paddles on the automatic easy to use
Comfy rear seats
Space for shopping and a pushchair when rear seats are down
2 12v sockets for charging in car items – brilliant!
4 wheel drive great for country lanes
Cons
Seems heavy on fuel even over a long journey  – 400 miles from one tank
No reverse parking sensors just a camera
Steering not very direct – gives the illusion of understeer
Main sat nav display is not that easy to follow
Middle seat belt is in a funny position, it sits between two isofix mounts which means it can be grabbed by a small child sat behind the passenger seat
The isofix anchors sit below the level of the back seat, this means to get to anchors the isofix legs in the foot well have to be completely extended.  Also a rear facing car seat is tight against the back seat and difficult to attach – check your car seats are compatible!
No leg room in boot when seats are up meaning it would be no good as a permanent 7 seater. If only using extra seats occasionally and for short journeys it would be fine.
With one of the rear seats up you can still fit a pushchair in the boot but you need to lift the pushchair out to get the child in the boot out.
With 2 isofix in the back the middle seat is narrow.  Difficult to get in and out of the middle seat.
No space for a pushchair with 7 seats up but a small buggy might fit – check before you buy
I actually really LOVE the Outlander. It is a nice drive and looks great as well as having many practical features. With a family the size of ours though I think we might need to consider the long wheelbase Shogun instead.
Let us know if you have any questions!