Have your children seen the latest from Disney Junior? Vampirina!
Vampirina is a brand new Disney Junior show based on the Vampirina Ballerina series of books aimed at pre-school children.
The show is about a little vampire with a great voice, great moves and her own band. The hot new Disney Junior TV show celebrates friendship and difference – with a spooktacular twist!
We are taking part in  a Twitter party on 28th February 2018 1-3 pm, why don't you join us?
Along with the show there are some fun Vampirina toys. Have you seen any of these?
Vampirina Spookylele and Gloves
The Spooktastic Spookylele looks just like Vampirina's! Press the buttons to activate lights and hear Vampirina's theme song along with additional music, guitar riffs and whammy sounds! The guitar features fun bright colours and the mouth really moves! I
This includes a pair of open-finger spook-tacular gloves – if you have a little disco diva at home they will love rocking out with this and playing along with Vampirina. Priced at £22.99.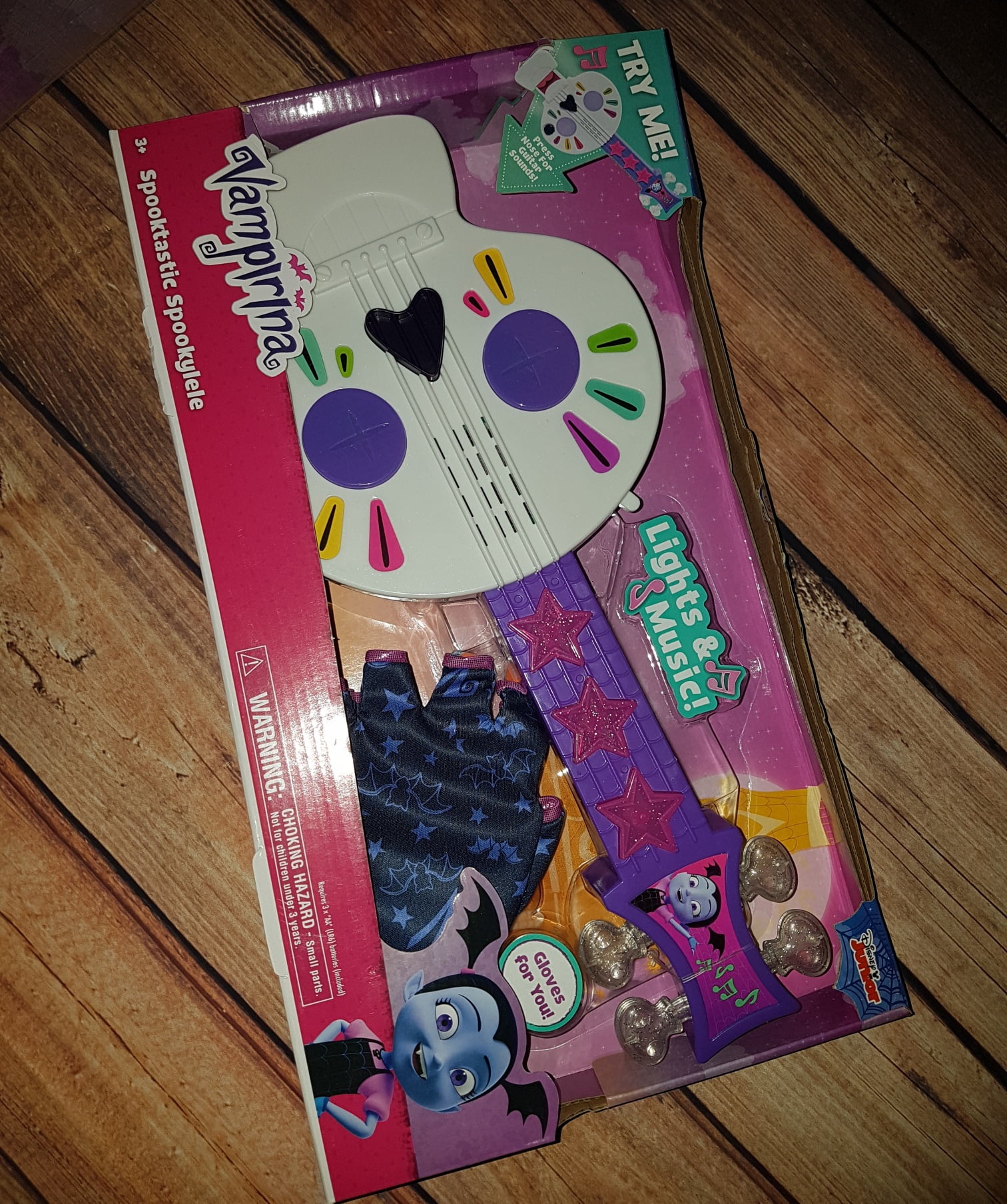 Rock n' Ghoul Microphone
Sing along with the Vampirina Rock N' Ghoul Microphone! Press the button to activate colourful light up effects and hear music from the show! Features a bat-tastic design with mini bat wings.
This was one of the favourites in our house – they love a good sing a long! These are priced at £6.99 and we will be popping one in each party bag.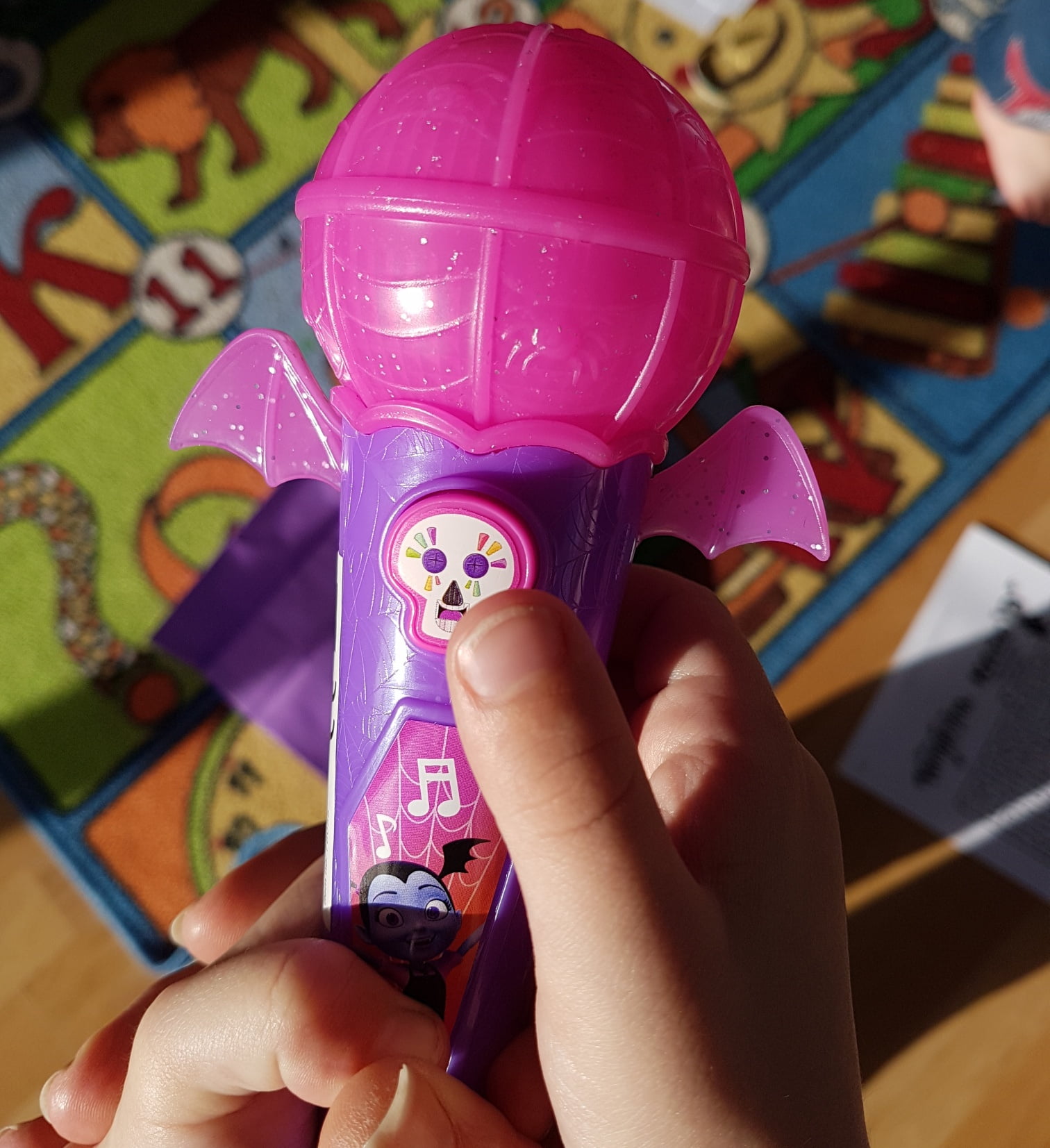 Best Ghoul friends figures
Each set includes an 8cm poseable Vampirina or Poppy figure, an accessory plus a monster friend that features Ghoul Glow magic. Place your figure on the Ghoul Glow Chamber Playset (sold separately) to hear sounds and watch your figure glow from the inside out.
Collect all three sets if you are a mega Vampirina fan! Priced at £7.99. These are great for acting out the scenes from the show.
Vampirina Bat-tastic talking Vee and Wolfie
Featuring pop-up and light-up wings, this 30cm doll can be put into flying mode to hear fun sounds! Children can also press Vampirina's necklace to hear her say fun phrases from the show! The Vampirina doll comes with her loyal pal, Wolfie, and is dressed in a spook-tastic web-detailed dress with matching necklace. This is priced at a whopping £44.99 – so perhaps make sure little ones are fans before you purchase this one.
Hauntley's Mobile
Hauntley's Mobile vehicle featuring lights, sounds, music and accessories also transforms into a moonlit movie theatre! This playset also comes with a Vee figure to play with! Priced at £29.99.
This is lots of fun – these kinds of toys end up getting played with forever in our house! There is always a race to be had!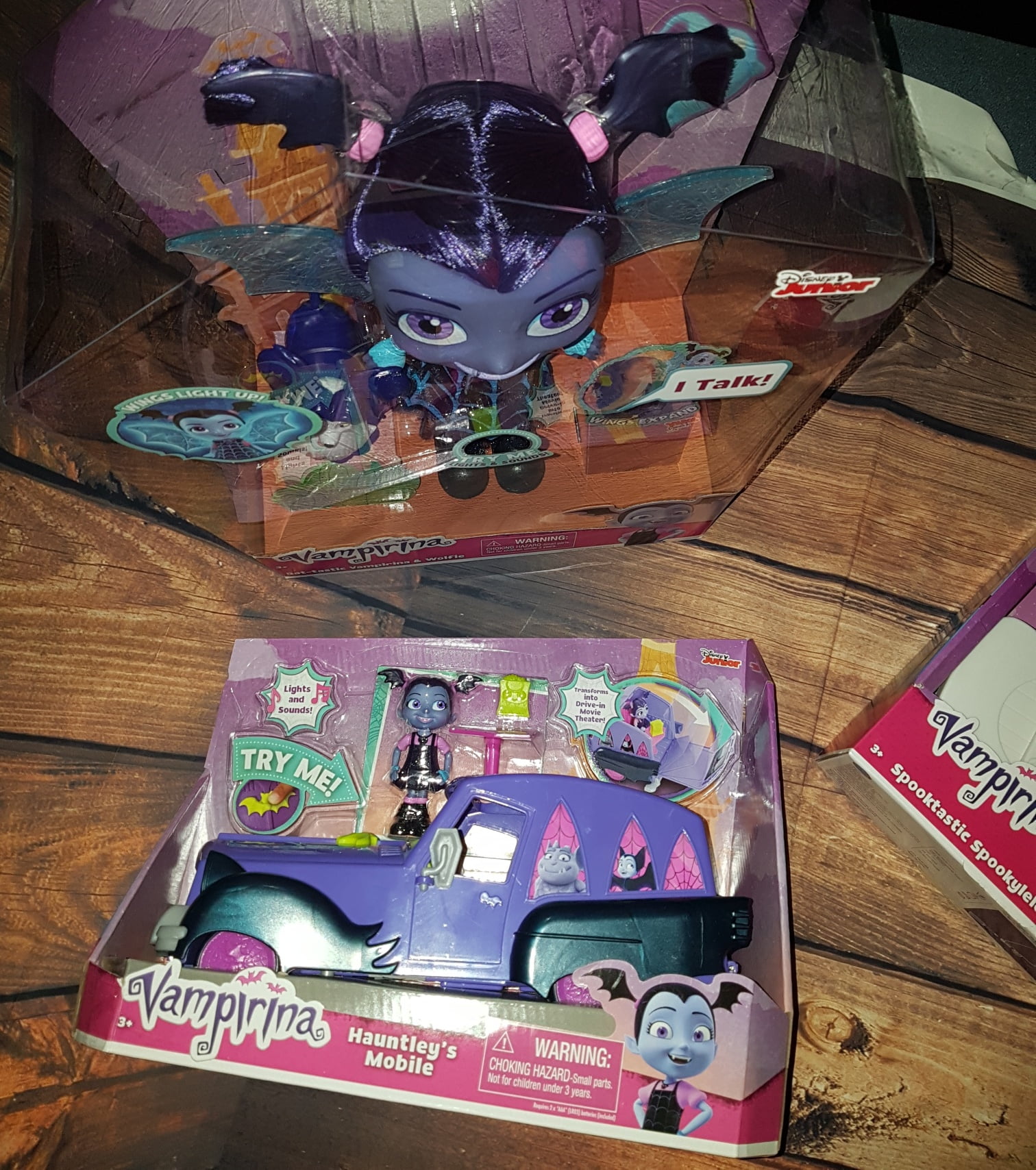 These are available in all good toys stores. All the toys seem well made and fairly robust – would your children like these?
Don't forget to join us on Twitter 1-3 PM on 28th February – you might be able to bag yourself some fun Vampirina prizes!