There is no experience more magical and memorable than the happiest place on earth. Witness your kids' faces light up as they get lost in the enchanting thrill that is Disneyland.
Come face to face with Mickey and Minnie, shake hands with Goofy and meet all your favourite princesses. With so much to do and see to keep the whole family entertained, you are guaranteed to have the holiday of a lifetime. Below you will find top tips for Disneyland Paris. From must-visit rides and parades, to where to eat and stay, we've got you covered.
Attractions
Disneyland Paris offers two fun-filled adventure parks to visit – Disneyland Park and Walt Disney Studios Park. Visit both or spend all your time at one, park hopper tickets are available.
For all the Woody and Buzz fans out there, don't miss a visit to Toy Story Playland. Ride on the Soldier's Parachute Drop or feel the need for speed on Andy's RC Racer. Disney classics that always win are Big Thunder Mountain, It's a Small World and Peter Pan's Flight.
Crush's coaster is a thrilling way to dive into the world of Nemo and friends and don't forget Disney's newest addition – Star Wars. With Star Wars on board, you can expect to discover amazing encounters with characters, a revamped hyperspace mountain, parades and more!
Where to Stay
When deciding where to stay it all depends how you are looking to spend your time in Paris. If you wish to spend all your time at Disneyland there are a variety of Disney hotels and resorts to choose from. However, it is always a great idea to stay closer to central Paris where you can take in the wonderful sights and explore all the city has to offer. Hotels like Fraser Suites Harmonie La Defense are a great option for families as their serviced apartments offer an abundance of space.
Travelling from Paris to Disneyland can easily be done by car or public transport and takes no longer than an hour.
What to Eat
When going to Disneyland with your little ones, its always advisable to bring snacks, drinks and even some packed lunches. Dining in the parks can be pricey but if you want to immerse yourself in the full Disney experience, there are a lot of fantastic options to enjoy a tasty meal.
An unmissable dining experience is the character breakfast. This is one the kids will adore, and grownups can discover their inner child too. Have a fun and exciting start to the day at breakfast with all your favourite characters like Mickey and Cinderella. (The character breakfast is very popular so be sure to book in advance).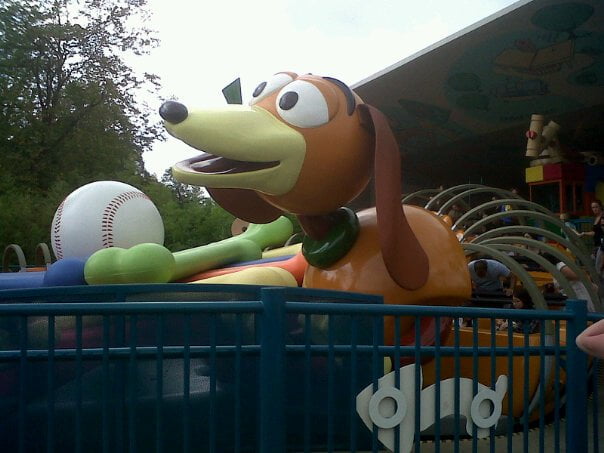 Annette's Diner brings all the rock 'n' roll vibes in this bright and vibrant restaurant. Sip on delicious milkshakes and indulge in burgers and fries. If you prefer to experience some French cuisine and culture while in Paris, Bistrot Chez Rémy from Pixar's Ratatouille is a popular choice but also books up fast.
During a visit to Disneyland Paris, you will discover there is so much to do. Luckily there is something for kids of all ages and plenty of options for adults to enjoy themselves as well. From thrilling attractions and experiences to excellent dining and hotels, you are guaranteed to have the family trip of a lifetime at the happiest place on earth.
Have you been or is it a trip you are considering?