Whether you are new to running, returning after a break, or a seasoned runner, it pays to look after your feet. Runner's feet take a lot of pounding and if you are serious about running, you need to look after your feet.
Nail and foot care
Long nails can get caught in socks and tear the perfect set you just bought. Not only that, untrimmed nails lead to the sort of strain that can create blood pooling under the nail, and a long untrimmed toe can cut the neighboring toes, leading to pain.
Keep a keen eye on your nails and make sure to keep them trimmed on a regular basis. Cut the toenails straight across and then use a file to smooth out the edges of the nails.
Each time I've done a marathon, I've lost one of my big toe nails within around six weeks of the marathon. It's become standard, but if you can avoid it you obviously should do.
Look after your skin
The skin on our feet tends to be thick, bumpy and dry. The bad news is, as a runner, dry skin can lead to heel fissures, where the dry skin cracks and bleeds, which is really not the best thing I promise you – best to try and avoid this if you can.
What's more? The repetitive impact of running can exacerbate the cracks, making them more prone to infection. They can get very painful and take a very long time to heal.
As a result, to ward off this trouble, make sure to soften your skin on a regular basis. Rub the moisturiser into the skin until your feet start feeling supple and soft. One of the best things I've found (before the cracks appear) is to rub Vicks on the feet. For some reason this has worked better than any specific foot cream, balm or even the good old Vaseline.
Run in the right trainers
If your shoes are too tight or too short, they can cause black toenails and extreme discomfort during or after running. On the other hand, if the shoes are too wide and loose, your feet will tend to slide around the shoe, causing undue friction, and leading to blisters and other painful ailments.
Improper shoes can also result in serious injuries like calluses, ankle sprain, knee injury, and other serious troubles.
When
looking for a new pair of trainers
, seek the help of a podiatrist. A few running stores have these shoe-fitting experts on duty, so make sure to use them to your advantage. Keep in mind that every runner is different. Some require more support, others offer less cushioning, so you will have to find the right pair for you. I can't wear anything that is very firm on the top as I find it places too much pressure on my toe nails, but that might be different for you.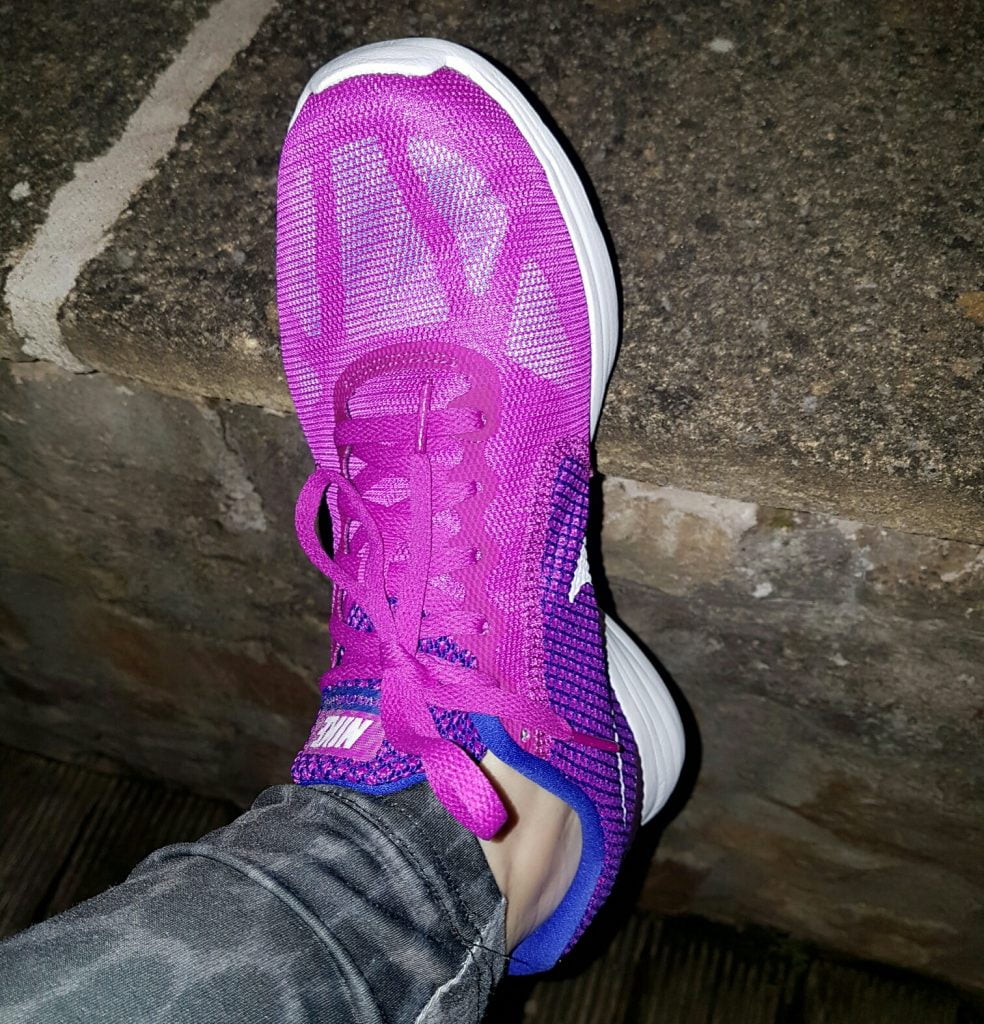 Buy some comfortable trainers but also a pair that suit the type of running you will be doing. These Nike Revolution 3 trainers are really comfy and feel very supportive. They have neutral ankle support for uneven terrain and also offer excellent grip across a range of surfaces, even when the ground is slippy or wet or when you are running down hill.
You need to have confidence in your footwear to make the most of of your running and these trainers are great for that.
Choose the right socks for your needs
Picking the right shoes is just the beginning of the story. You will also need to run in the proper socks. In fact, a bad pair of socks is one of the main causes of blisters and other running issues. In my first marathon years ago I rubbed two blisters on my heels due to the socks I was wearing – don't get caught out, you need to be able to walk afterwards.
The good news is that socks are cheaper than shoes. Meaning you can afford to experiment with different socks brands and sizes until you find the ideal pair.
Just keep in mind that you will have to test out the running socks with your running shoes. And when you come across the brand, style, and fabric that works the best for you, purchase several pairs, if possible.
Watch out for the fungus
Known as athlete's foot, this painful infection causes itchy pain, redness, and blisters on the toes and soles of the feet.
Make sure to keep your feet fresh and dry as often as possible. Fungus finds fertile ground in murky; and by keeping your feet clean, you are making it less likely for the condition to arise. You can increase your of beating this condition by changing your socks regularly and using antiperspirants on your feet.
Plus, keep your toenails short and clean. This will not only prevent the fungus but will also lengthen the lifespan of your socks.
If it's too late and you have athlete's foot, then you can try to treat it with an over-the-counter fungicide – also applying Vicks to the feet can also help. Apply liberally at night and wear thin cotton socks in bed.
Do you run? How do you take care of your feet?