Any of you parents remember Scalextric? As a child I remember it was that toy that all the boys in my class wanted for Christmas, and it seemed like that for a few years. Of course it's not just a boys' toy – maybe if more of us girls had these as children there would be more female racing drivers?
Or maybe not?
I jest a little, I know it's not just about that, but it would be interesting to try it out perhaps?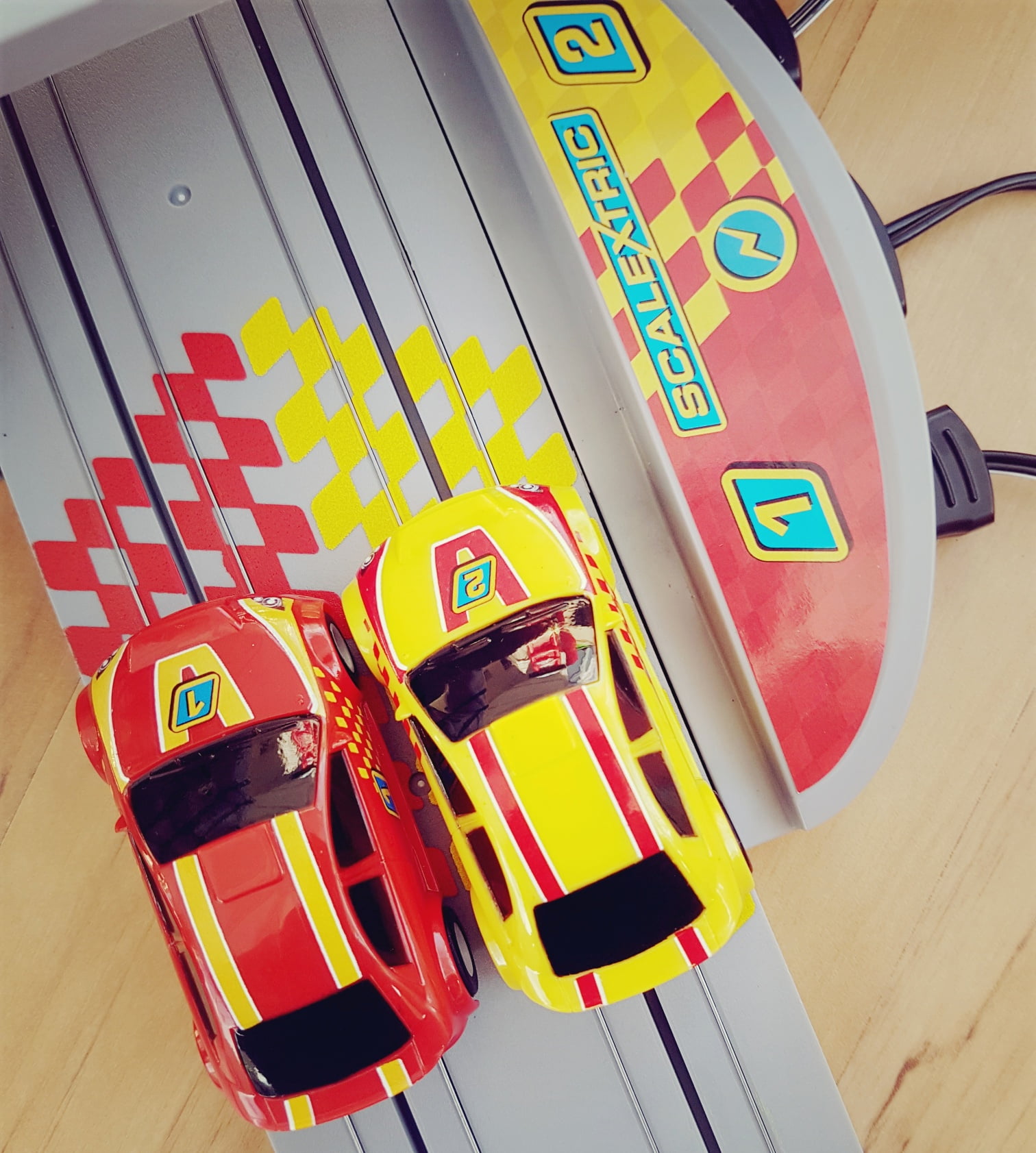 Anyway, I hadn't really considered that these were still around, but it seems I was wrong and not only that, there is now a version for younger children. My First Scalextric is a great introduction to the world of Scalextric racing for children aged 3 and over, featuring an easy-to-assemble figure-of-eight track. Here's a little taster.
The two rally cars and adjustable power hand-controllers are colour coded in red and yellow to match chevrons on the circuit. So, get over the challenge of who gets which colour, and you are winning.
The "Magnatraction technology" helps to keep the cars on the track, and variable hand-controllers allow the speed of racing to be adjusted depending on skill level.
The boys were quite cautious at first and built up their speed gradually. There were a couple of flips off the track but that all added to the excitement of the racing.
From a parents' point of view this is easy to set up and just plugs straight into the mains, so no scrabbling around for batteries –  winner. The pads on the base of of the cars are a bit problematic, as they are easy for a child to pull off. Also, if a child pushes a car backwards it wrecks the pads and it isn't a quick job for a parent to fix them.
The boys love racing the cars and seeing who can go fastest. They have enjoyed taking it in turns to do commentary on their microphones, which is very entertaining and also think it's funny to swap controls to drive each other's cars.
My First Scalextric is fully compatible with the Micro Scalextric range of sets and cars, allowing you to extend your track and add new cars – the possibilities are endless!
This kit is priced at £39.99 and might be one to add to the Christmas or birthday list.