When it comes to birthday parties lots of parents do relax a bit about what their children eat. One theory is that it's a one off, not a regular thing so it doesn't matter too much. There can be issues though if your little one has a packed social diary of parties, as parties might not be that rare. Very quickly sugary, salty or fatty party food can become more regular than you might want it to be.
I'm fairly relaxed when it comes to party food but I guess that's because my 'party food' has always involved fruit and vegetables as well as sweet treats. I'm mindful that not everyone does things the same way at home so I try to cater for most needs and tastes.
I'm more pro-active about this probably for tiny tots parties as many parents try to restrict little ones diets in terms of the 'bad stuff' as long as possible, which I can totally understand.
As far as drinks are concerned, whilst some parents might be OK with fruit shoots, many prefer their toddlers to drink water or milk. Little ones however, often like what others are having, so one way around this is to fill old fruit shoot bottles with milk and water as well, so parents and children have a choice. They are easier to manage than open cups so you can avoid spillages.
When serving fruit be mindful that some parents get twitchy about things like whole grapes (myself included) so either half them or even quarter them before serving. I normally do the same with strawberries but I leave blueberries whole. Carrot and cucumber sticks can go down well as well as some cooled pasta, but try to avoid shell-shaped pasta as that can easily get sucked to the back of a little ones throat and cause choking.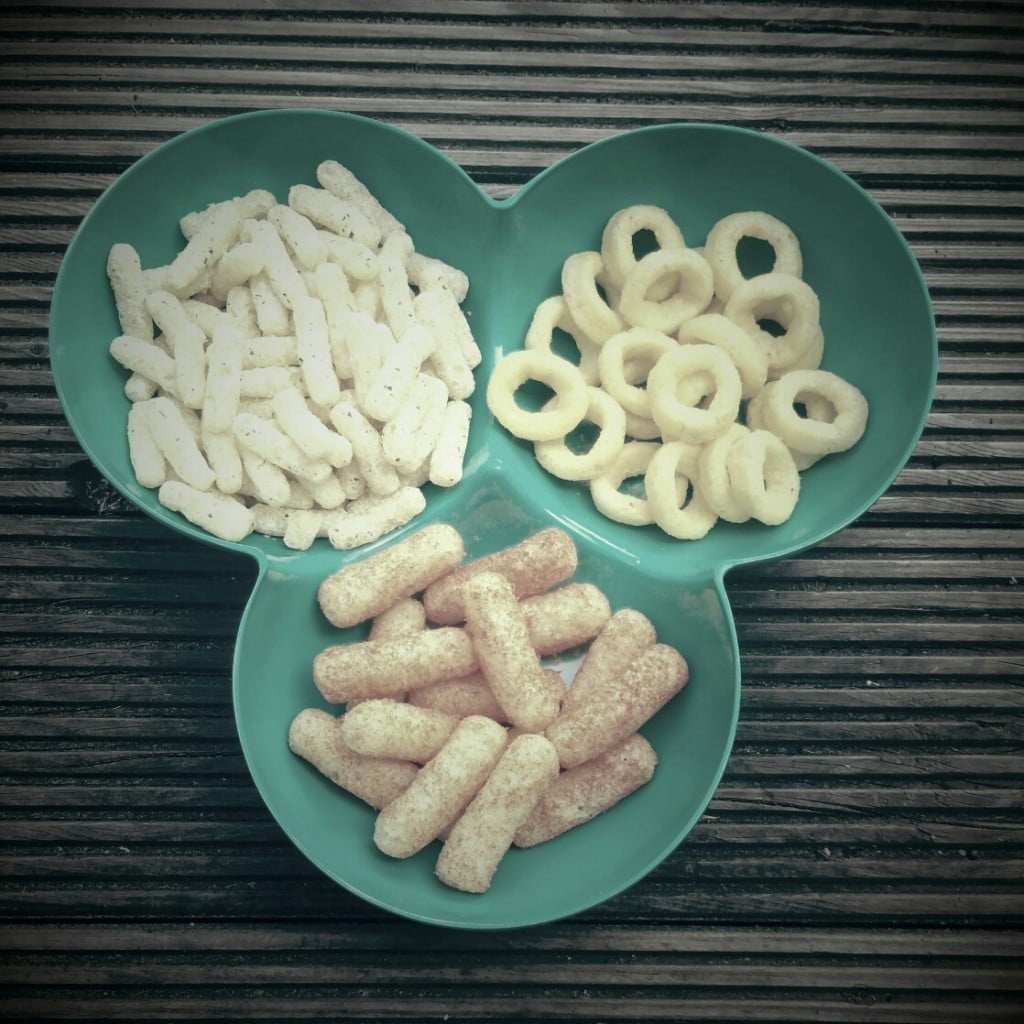 You might be happy to serve things like cocktail sausages which always go down well, and mini slices of pizza even. Hot dogs tend to be a bit wasted on toddlers but work well for older children's parties.
Crisps are always a hit in my experience but for toddler parties I tend to serve a few crisps and then things like rice cakes, corn puffs and other bits and bobs that are better for little ones. Organix have a range of snacks that are great for parties, including: sweet corn rings; cheese and herb puffs; carrot sticks and a huge range of rice cakes and other yummy snacks.
I tend to try and hold off putting sweet things on the table until I can see that most children have eaten a fair bit and then I start by adding in a few things like chopped up organix oaty bars and then add in a few things like gingerbread men and some little cakes.
I just feel like this ends up being a bit more balanced and parents tend to go home happier because their children aren't as high as kites.
How do you approach toddler party food?