Running is not for everyone. Those that do run are normally better at either sprinting or long distance running. The really annoying clever ones (like my daughter) are good at both.
I  was never a sprinter at school. All my close friends were but I was the one who was always entered for the 800m 1500m and the cross country.
I guess I've always had the stamina but minus the speed.
When I left university I revisited my long distance running and have completed marathons most years since, sometimes several in a year.
I  don't especially love to run but I love a challenge . I am not competitive.  I have no desire to be the best. Just the best me. I like to push my boundaries and challenge my body to achieve what might seem a little crazy to others.
I know for example, that my body finished a mountain marathon whilst pregnant. I know that my body got me around 42km of hot vineyards. I know that my body took me 26.2 miles around Blackpool even when they hadn't any water stations. I know that my body can run a marathon 9 months after having my fourth baby with no training and recover in 24 hours.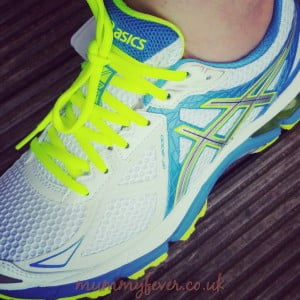 I wonder what else it can do?
There are endless articles on line with running tips and ideas of how to get started and what running accessories you need. I read many to begin with, but when you are a busy mum most of that goes out of the window.
I don't have several hours free a week to join a running club or a fellow mummy runner. I don't get the opportunity to do the magic x number of miles each week.
I do however have lots of stairs  I can run up and down, a driveway perfect for shuttle runs and 4 little people to chase after or take with me. If I said "I don't have time" then I'd be saying that for a long time to come. If I said "I don't have the opportunity" then again I'd be saying that for a long time. I have to look at the resources I have: a garden; a pushchair; a baby carrier; a DVD player and some fitness DVDs; monkey bars; stairs etc and work out how I can get fit whilst doing everything else. There are some great ideas over at Kiddicare of how you can get fit whilst taking care of the children.
Someone said to me after the marathon the other week that I must have been so tired. In all honesty the marathon was a rest. It was time to think, to reflect, to plan, to remember and to finish refreshed and ready to resume my role. I was able to remind myself what I am capable of and show my children what I can do.
So I would say pop a pair of trainers on and give it a go – it might not be your thing but then again you might surprise yourself.