Planning a family trip
Family travel can be stressful there is no doubt about it, but planning ahead can take some of the sting out of it.
Of course you'll never be able to dodge every stressful situation or tantrum or bad timing or travel delay even, BUT if you are prepared for most eventualities you are already winning.
Car travel
Keeping things tidy
Keeping the car tidy and everything within reach on a long journey can be a massive challenge. There are a few different products around that can help though. There's the new Junkie car organiser, or the Travel Pal from Diono, which fits in between two car seats and is large enough to hold everything for two children. Or there is the Stuff and Scuff, which prevents children from wiping their feet down the back of the seat in front, whilst also holding a few bit and bobs.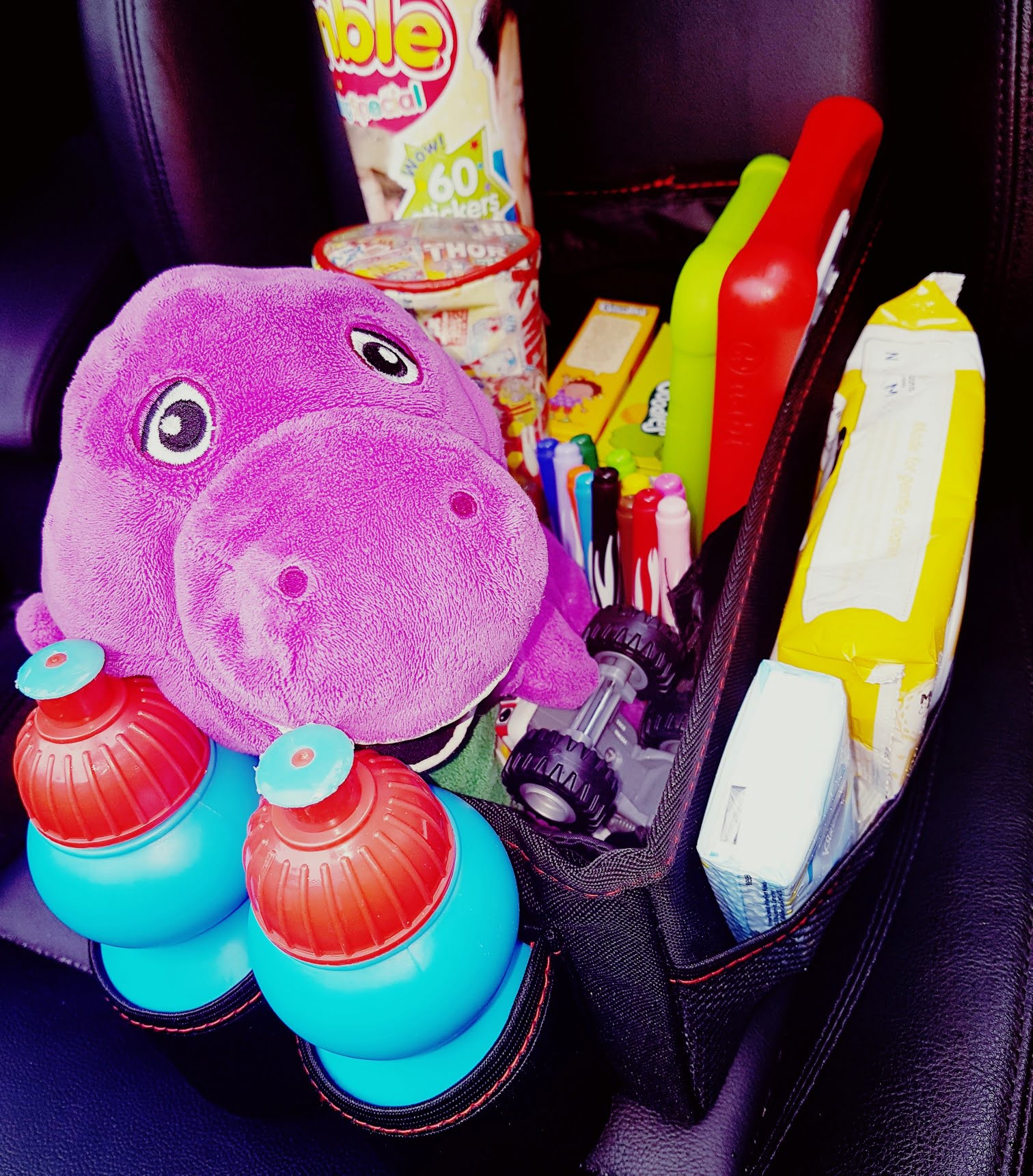 Keeping things in easy reach and having somewhere to stash them can make not only the journey easier, but also unpacking the other end. If you want something somewhere in between, or individual storage for each child you could try the Stow n' Go. These fit securely to the back of a seat, have two drinks holders and a range of other pockets for storing essentials. When not in use these are super compact and can fold up neatly in the seat pocket. Perfect for long car journeys and keeping everything in easy reach.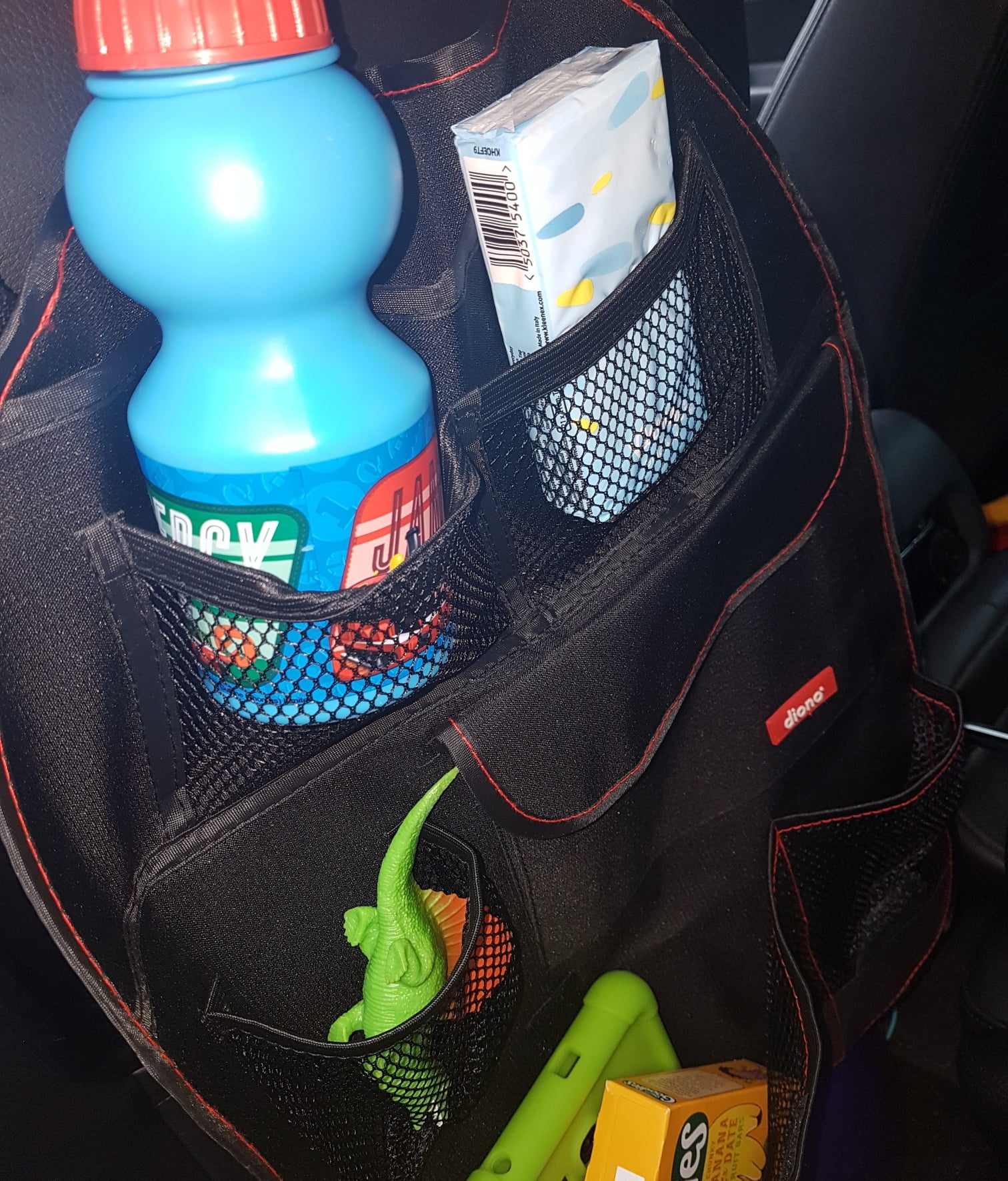 Bubble Bum
If you are flying to your destination but hiring a car when you get there, you might be worried about the car seat situation. With little ones there isn't really a way to get around this other than take your own or rent a car seat at your destination. However, for children aged 4 and above you could consider taking a Bubble Bum away with you.
The Bubble Bum is a best selling parents favourite, winner of more than 20 design, innovation and safety awards including Mumsnet, Mother & Baby and Practical Parenting and the IIHS Best Bet Booster Award. The portable and  foldable, inflatable and deflatable, lightweight car booster seat is for children aged between 4-11 years. It easily deflates and packs away, making it perfect for holidays, rental cars, taxis, coach journeys, school trips or car pooling. The narrow design makes it perfect to fit three car seats across the rear seat as well.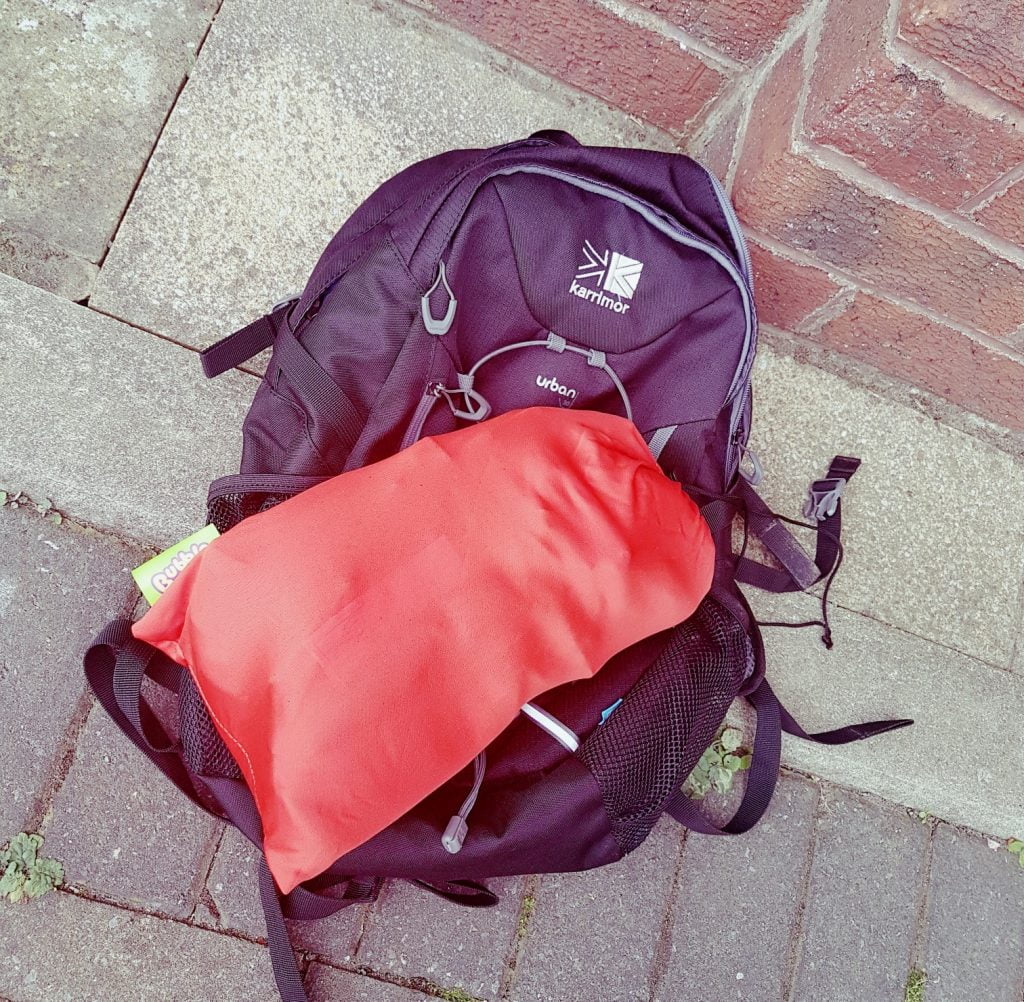 We've had these for years, since the original black and purple seats were launched, but now there are three brand new designs available. We love the Stars and Stripes seat, but there are other cool designs to choose from.
The portability of these seats for me really sets it apart from everything else out there, the children find them very comfortable to sit on for long car journeys and they double up as a great travel pillow on a plane, or booster seat in a cinema or theatre, or even on a chair in a restaurant! These really are a must-have travel item.
Keeping busy
Long car journeys or long flights can be a challenge with children. Sometimes they will surprise you and all travel really well and other times it can be, well, carnage!
You can't prevent every meltdown but it pays to have a few tricks up your sleeve. Their favourite toys or books can help, digital distraction can be an absolute saviour sometimes, and then of course having something a bit different that doesn't take up much room but can be whipped out when you need to concentrate or need them to sit still can be really helpful.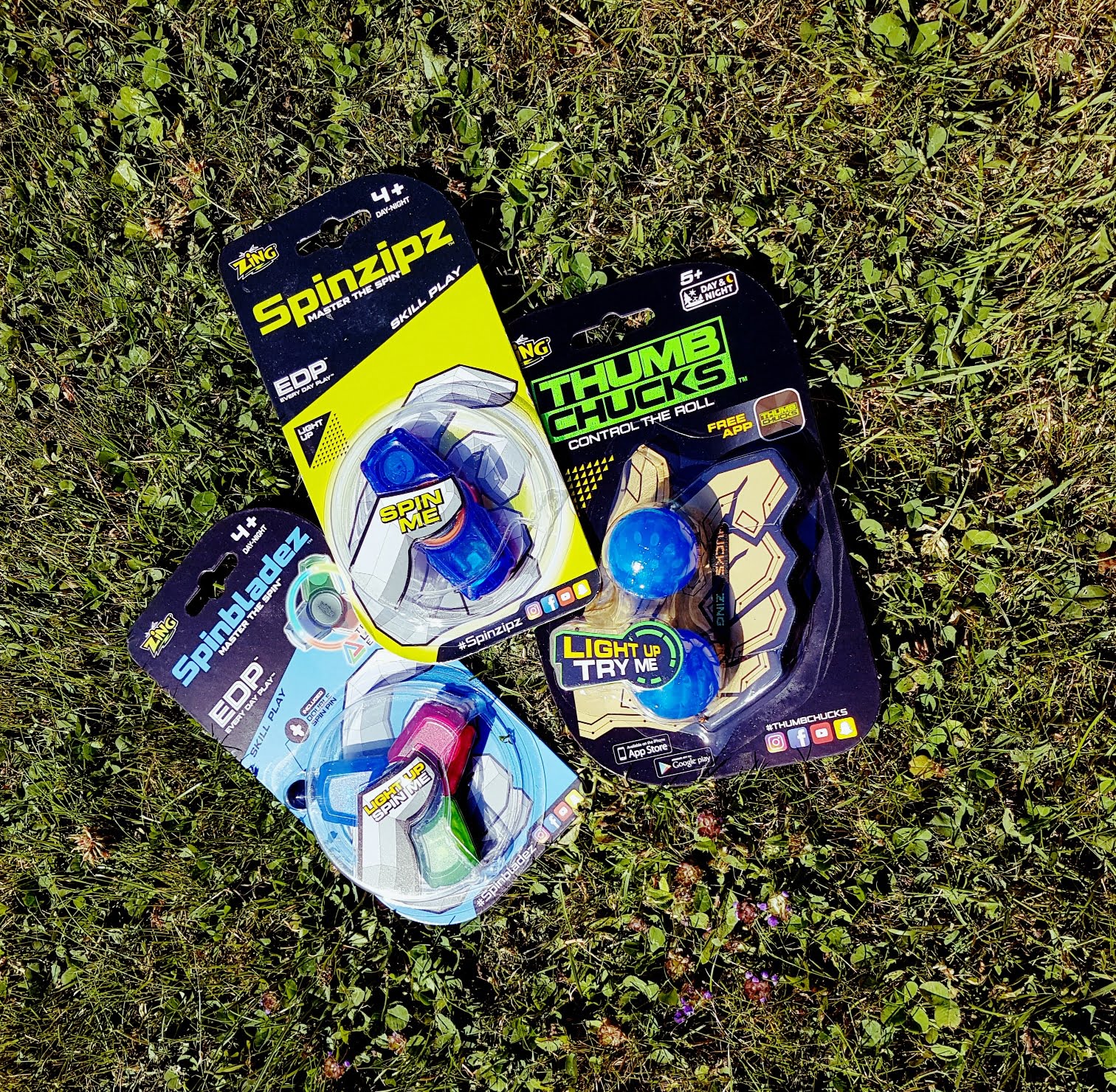 Thumb Chucks skill toys and SpinZipz spinners are the coolest fidget toys to be seen with. Endless tricks and lit-up in colour, they are perfect fidgets for festivals, summer events and long journeys. These provide entertainment on the go, children can master tricks and keep those fingers busy.
These are small and therefore easy to pack in hand luggage or a packed car of holiday supplies.
Baby wipes
If doesn't matter if your children are still babies or not – don't travel any great distance without several packets of baby wipes. I love Morrison's own brand of baby wipes. The Nutmeg Mild as Water newborn Baby Wipes are the best and at 67p per pack you really can't go wrong. I can see myself buying these way after we leave the baby and toddler years behind us. Wipes can be used for so many different purposes, they are a must have travel item.
Childs Farm have just launched their new range of wipes. Childs Farm biodegradable wipes are suitable for everyone from the littlest baby to the most grown up Granny; you can clean up most family situations with a pack of these wipes. They also have packs of 64 biodegradable baby wipes. These are so mild and gentle, they are suitable for newborns and babies, even those with sensitive and eczema-prone skin. At £2.49 these aren't as good value but they are biodegradable which is fantastic and they work well for little ones with sensitive skin.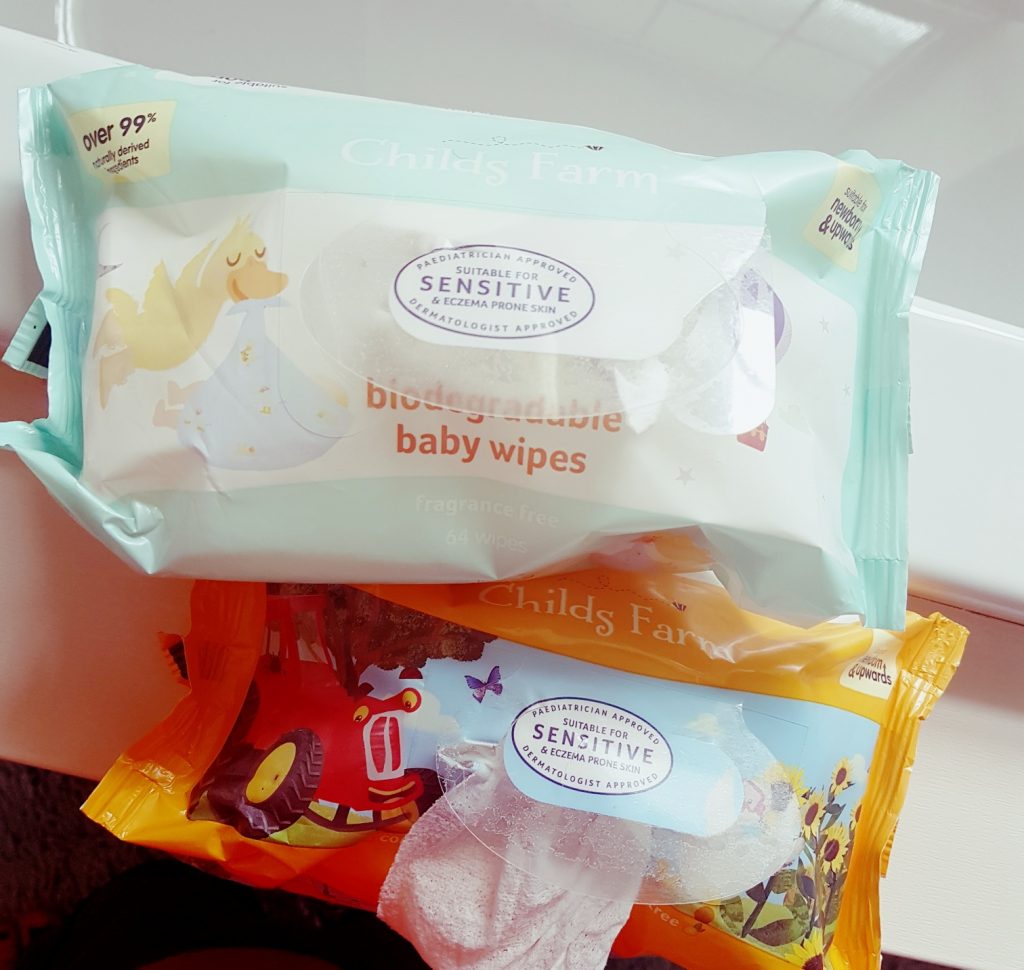 Beaches and picnics
Beach and picnic mat
Holidays can mean lots of picnics and time at the beach or on the side of a pool. This means a good beach mat or picnic rug can be really useful. Often the problem can be that they aren't very big and everyone is fighting for a space. Or perhaps too big and you can't carry it. Or even that it doesn't clean up well or doesn't have a water-proof backing.
We absolutely love the MIU Color Foldable Large Picnic Blanket because it ticks all of these boxes, including being sand and waterproof. It is 5×6.5 feet, so large enough for a family or group. Easy to clean by wiping down with a damp cloth, durable and comfortable with polyester top and PVC bottom and a soft foam layer in-between. To top that, it is 13×8 inches when folded, so it easily fits into bags, backpacks, glove compartments and so on.
No more grotty, sand-filled blankets!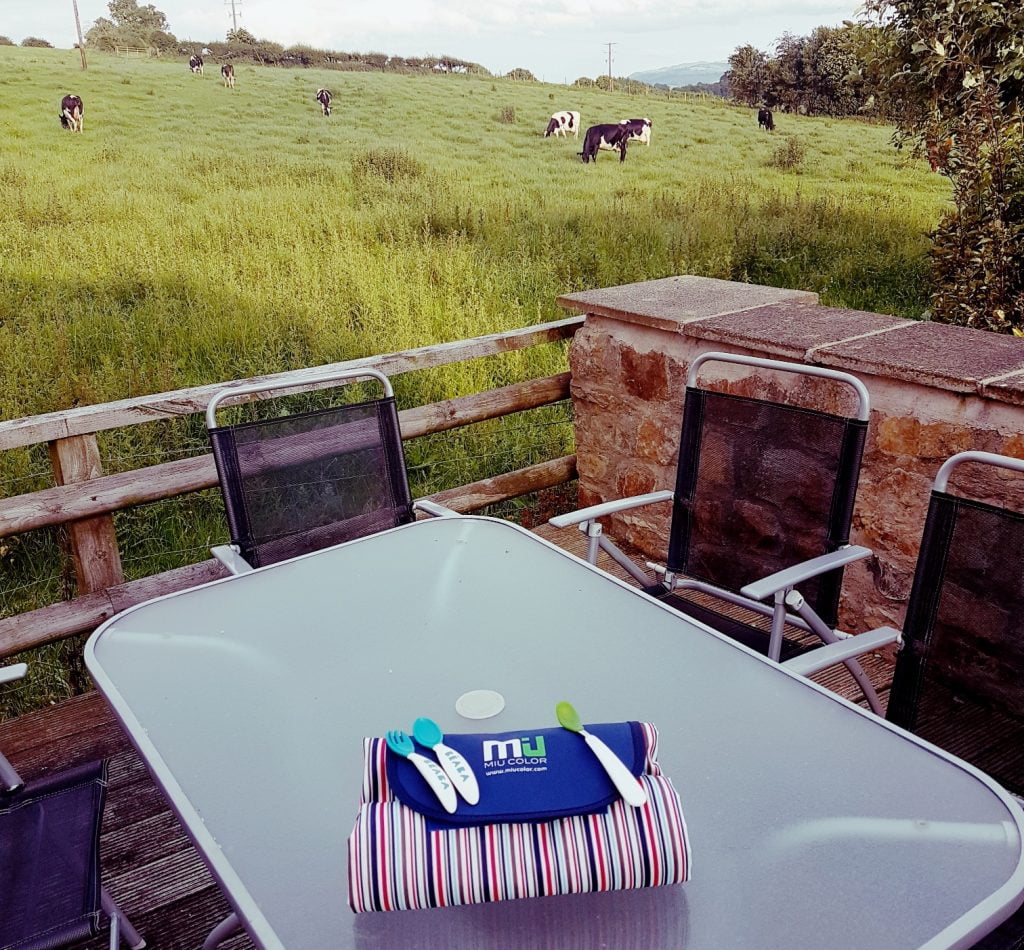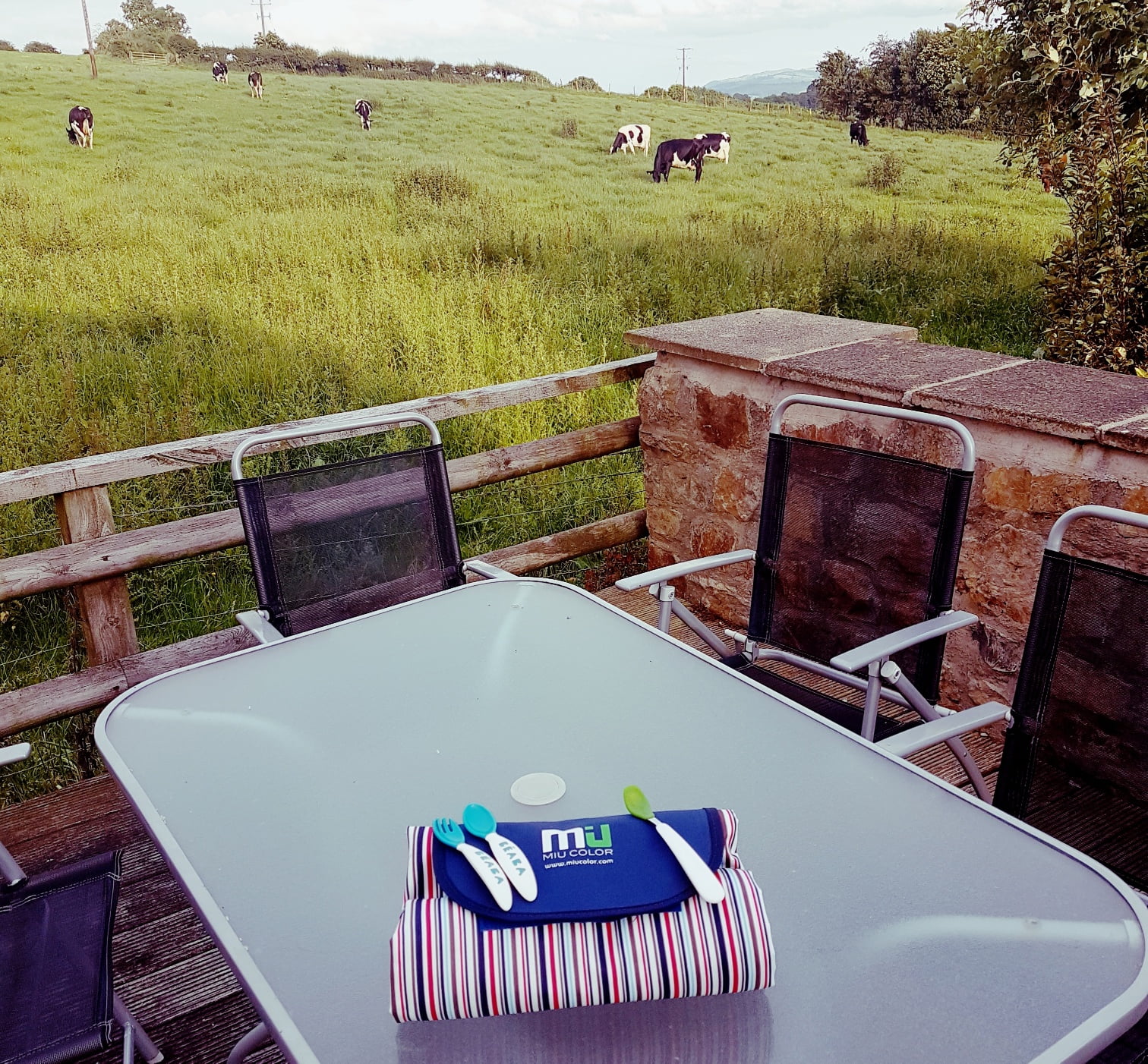 Staying hydrated
Keeping hydrated whilst travelling is so important. Sometimes there is a tendency to reduce everyone's fluid intact when travelling, to avoid constant toilet stops, but really this just makes everyone feel rotten when they arrive.
Water is obviously the best option, but often I find water in a plastic drinks bottle can taste a bit funny. The children comment on this sometimes as well. One solution is to go for something like the Miu Droplet Glass Water Bottle. I'd normally shy away from something like this because, well it's glass, and glass and little people don't go so well – the taste difference with these is huge though.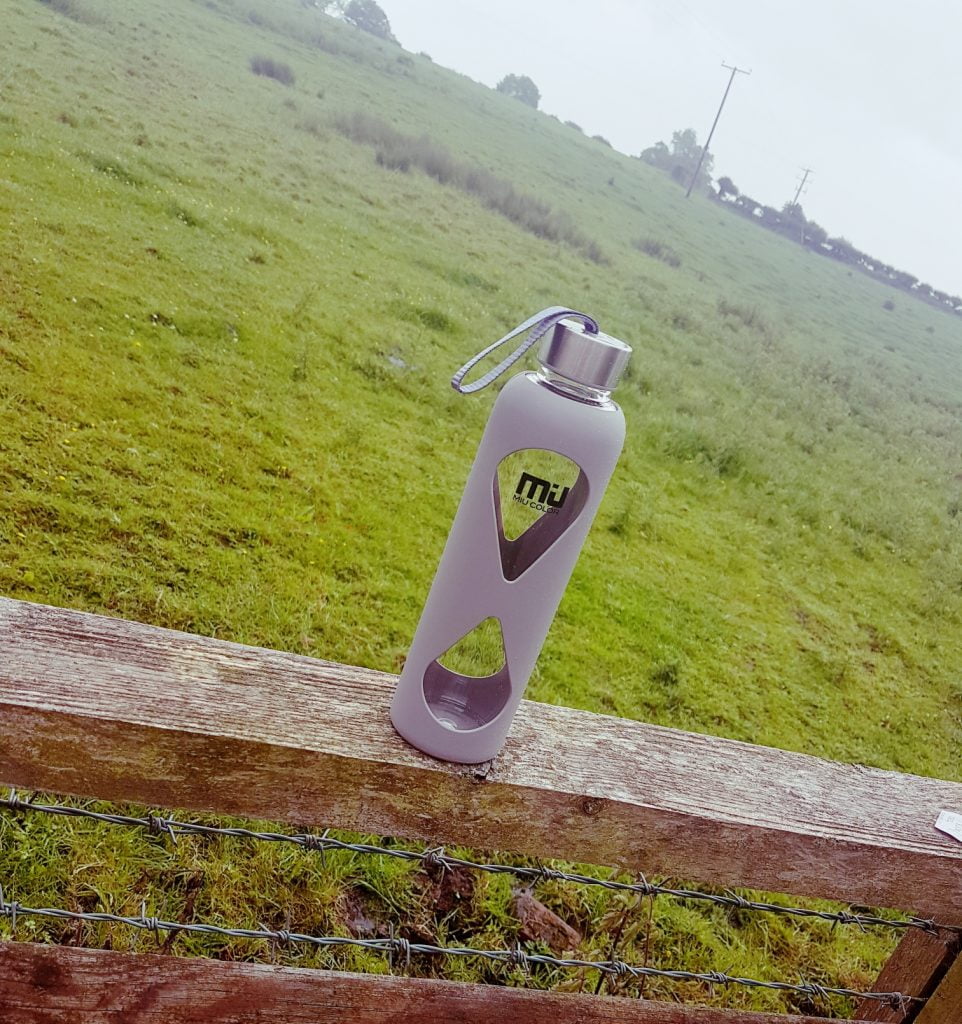 Eating on the go
When you are travelling you are always trying to keep little tummies full, as full tummies are often happy tummies. Finder foods are great, but for the times when cutlery is needed we love the BEABA training fork and spoon as they come in a handy plastic case that can be easily washed. These are easy for little ones to grip and the shape of them means more food goes in their mouths and less on the floor.
OXO Tot also do a good travel spoon in a case if you are at the weaning stage.
Family health
Family Health Tracking Device
One of the things I always pack when we go away, even just for a night is a thermometer. I always roughly know what each child's "normal temperature" is, so I'm fairly switched on when it comes to these being raised. However, batteries can run out when you least need them to and you may need to chart a child's temperature over a period of time.
Now there is an app and small device that simply plugs into your smartphone that can do so much more than just take a temperature. The Tapp by Oblumi calculates medicine dosage, stores a patient's profile and data and takes an accurate temperature.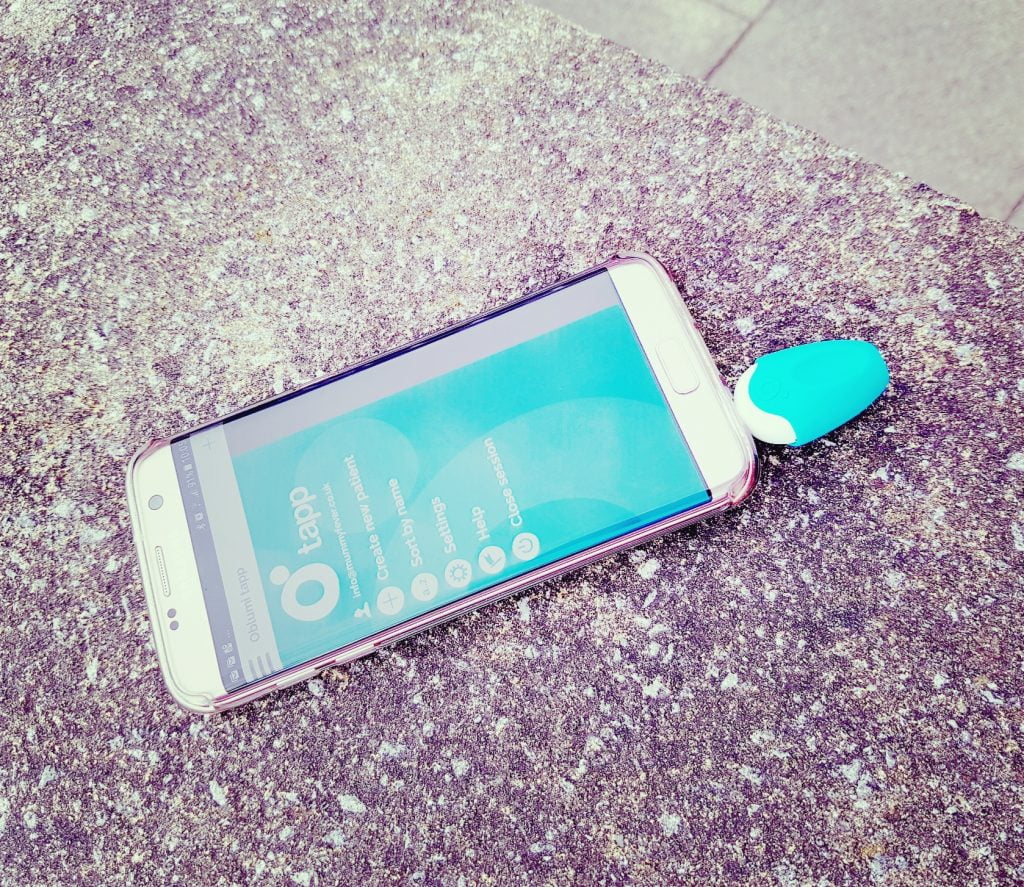 This is the access anywhere, medication and temperature tracker that send alerts, recommends dosage, logs and reports information across multiusers, in one portal. Suitable for all the family including newborns.
You set up profiles for each family member and you can take both a forehead and inner ear reading. It is very easy to use and you can even add photos for each family member – you just need to remember to pack the plug in device. It comes in a tiny case that could easily fit into a handbag, change bag or pocket.
I think this is great for every day use with a family but especially helpful when travelling.
Bumps, bites and stings
Holidays can mean a few bumps, bites and stings, but these can be easily dealt with, so the holiday isn't ruined. I also take Piriton with us, some Vicks Vapour Rub (as this can be used as repellent), plasters, anti-bacterial spray and some Therapearl Pals.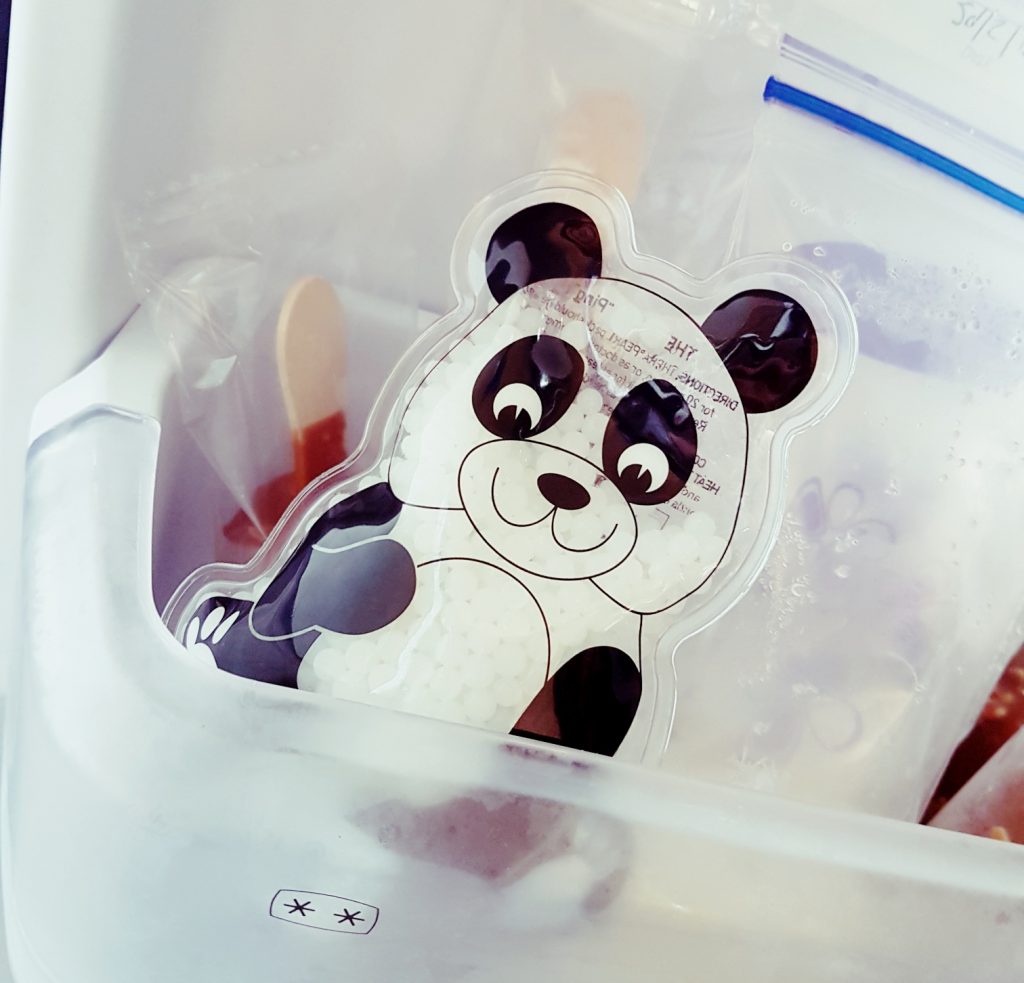 For a fast, drug-free way to fix a bump or soothe an insect sting try TheraPearl Pals. These colorful, kid-sized animal friends calm and comfort as they heal. Kids love to play with the packs so much, they won't fuss or fidget! Pals won a "Parent Tested-Parent Approved" Award for quality and appeal. An independent lab has verified that these non-toxic friends are free of heavy metals, lead, BPA and phthalates. They're safe, hypoallergenic, reusable, and won't drip or leak. You'll feel good about using them, and so will your little ones.
Just chill a Pal in the fridge or freezer, or pop it in the microwave. Apply the cold or heat for up to 20 minutes. Not so useful if you are in a hotel, but if you have access to a fridge/freezer and microwave then these are a travel must have.
Sun safety
Sun cream
Sun cream is something you really should replace every year. Don't be tempted to dig out that cream from the back of the cupboard that's been there a few years – get some more to be on the safe side.
We've been using Childs Farm Sun Cream for a couple of years now on the children and it is very reliable. This sun cream has an actual SPF of 66.8, allowing them to say it's 50+. It's also water resistant to keep young and sensitive skin fully protected, moisturised and hydrated in the sunshine. Suitable for babies and children from 6 months upwards. Dermatologist approved for sensitive and eczema-prone skin, which makes a huge difference.
Sunglasses
Once children reach around 12 months, sunglasses are a must if you can keep them on children of course. We love these 
360° sunglasses
 from BEABA. These have a strong UV protection Category 3, dark, unbreakable lenses for strong exposure, and they are suitable for the beach and the mountains.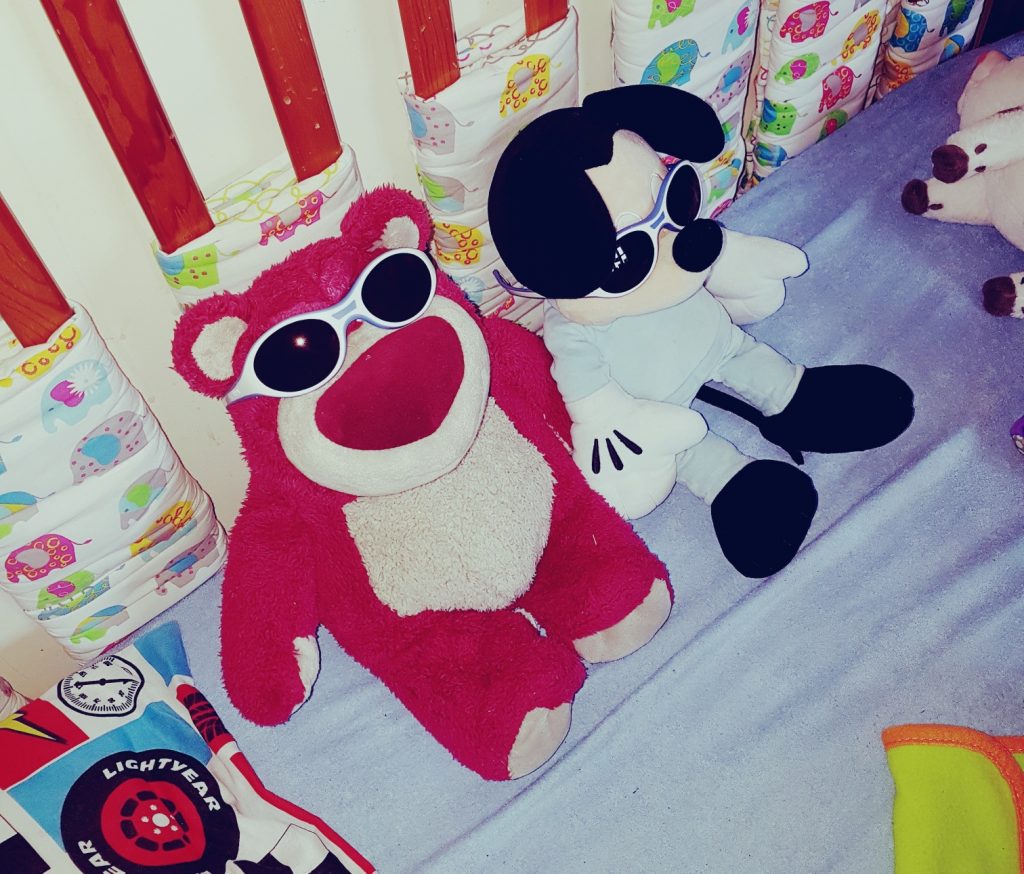 One of the bonuses of these glasses is their enveloping frame. The glasses don't rest on the ears, so they are more comfortable for the child. They come in baby and kids sizes, so all your little ones can be protected. What are your family travel essentials?