Bean bag chairs have evolved from tiny little seats meant for college dorms and basement playrooms to massively comfortable chairs that fit in the modern home. Today's bean bag chairs come with luxurious textiles on the outside and durable materials on the inside. Despite the changes, people have questions about the bean bags.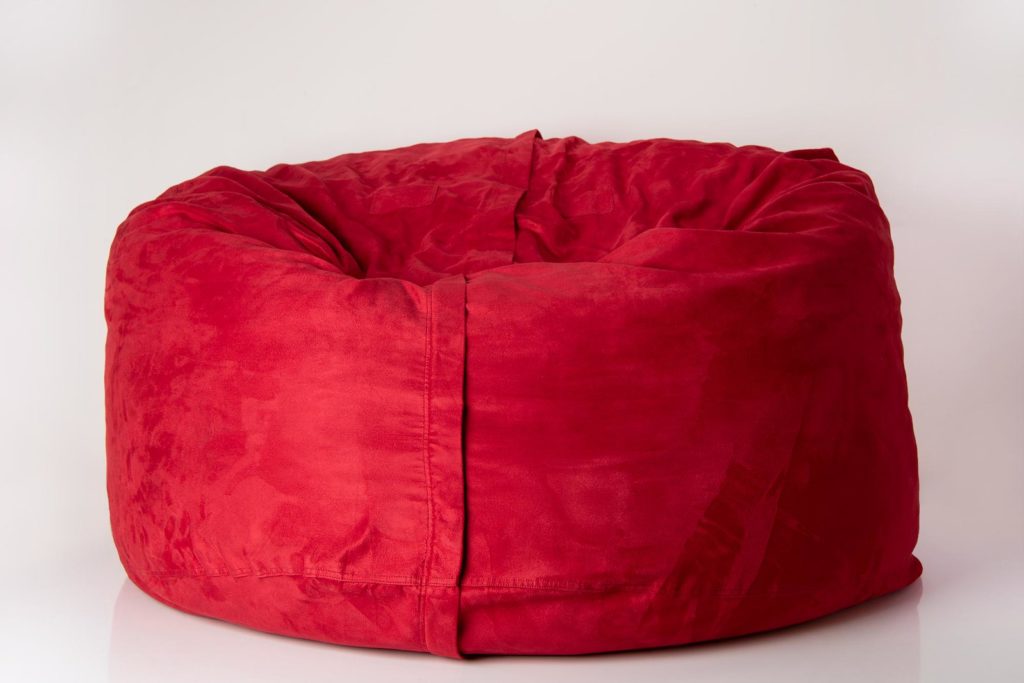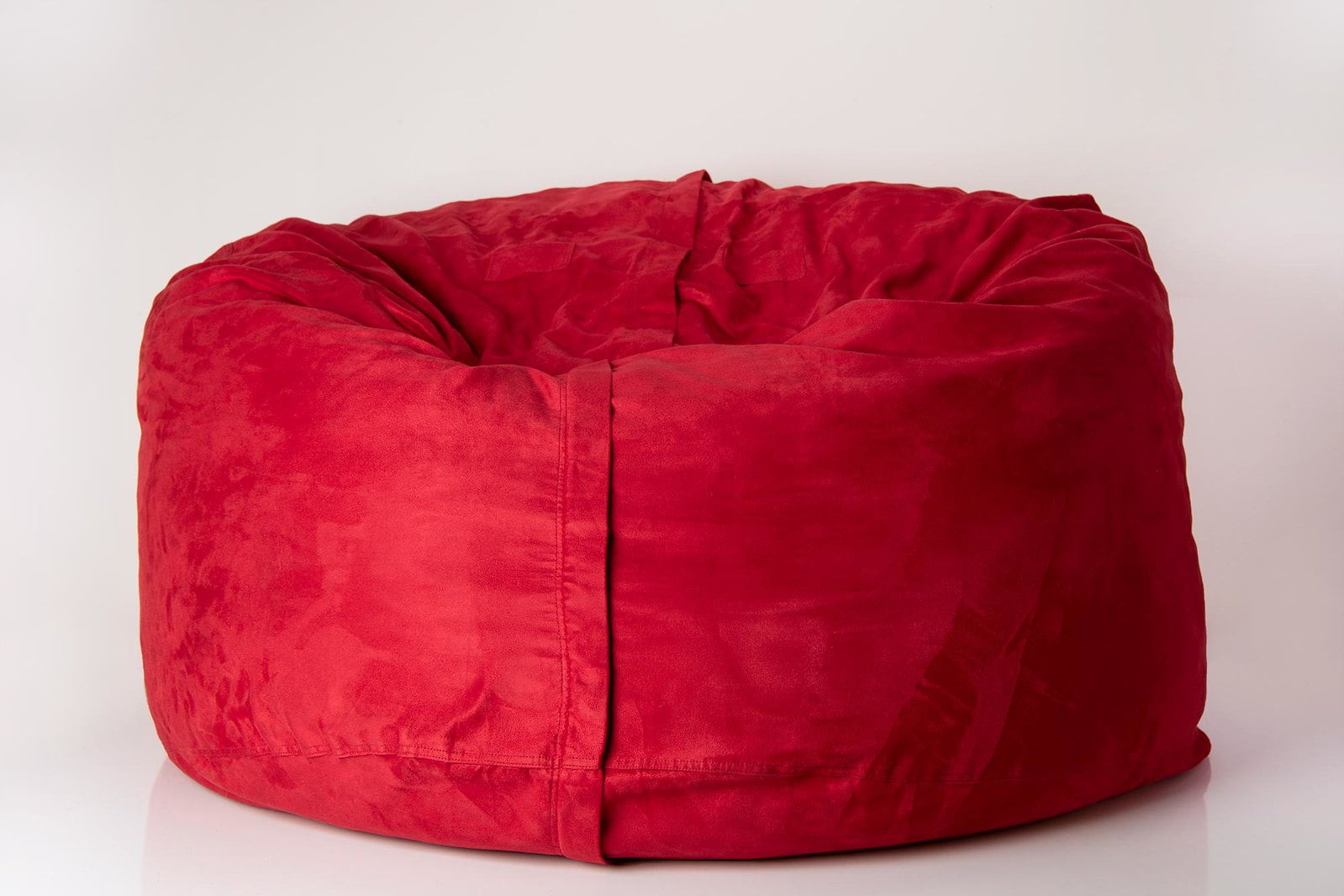 1. How old are bean bags?
Bean bag chairs have been in existence since ancient times. They were smaller, covered in animal hides, and filled with tiny pebbles. Native Americans also used them for seating and for throwing in a game similar to cornhold. In the 1930s, the predecessor of the Hacky Sack first made its debut. The modern bean bag as furniture first appeared in homes in the 1960s.
2. What is inside of bean bag chairs?
Bean bag chairs can have several things in them. Many have a filler made of supportive urethane. Some have Styrofoam pellets. Most bean bag chairs can be refilled if they lose some of their fluff. Polystyrene foam balls are inexpensive and easy to find online. Often, the pellets are recycled from plastic household items. They are waterproof, nonflammable, and hypoallergenic.
3. What are bean bag covers made of?
Bean bag covers come in all types of fabric. From leather to cotton, there is truly something for everyone. They even come in luxurious fabrics like microsuede, lambswool, fur, and velvet. You can see some bean bag chairs here to see the variety of colors and fabric choices.
4. How many sizes do bean bags come in?

Bean bags come in several sizes. They can in small, medium, and large. Small ones are generally child-sized and under 30 inches in diameter. The medium ones are for one person, and measure between 30 and 54 inches in diameter. Large ones are bigger than 54 inches and two people can fit on them. Some of the bigger ones have pockets for TV remotes as well as integrated cup holders.
5. Are bean bags safe for young children?
Prior to 1995, there weren't any safety standards for bean bag chairs. Children could go inside chairs and suffocate. Finally, the March 1995, the Consumer Product Safety Commission set standards for manufacturing bean bag chairs. They recalled the old styles and ordered manufacturers to include child-proof zippers on them. Since, they have been safe for children.
6. Are bean bag covers machine washable?
Not all bean bag chairs are machine washable. Fabrics like cotton, denim, and twill can be washed a machine. Others can only be spot cleaned or they might have to be removed and brought to a dry cleaner. Fortunately, bean bag chairs usually have a liner that holds the pellets so covers can be removed without the beans falling everywhere.
7. What are the most popular uses for bean bags?
Bean bag chairs are used in homes, especially in bedrooms, TV rooms, and game rooms. Some businesses use them, especially if they are casual workplaces. They are showing up in movie theaters as well as classrooms.
8. Are bean bags safe for dogs?
Yes. Bean bags create a soft, comfortable, and safe place for dogs to sleep. Since they conform to the body of the dog, the dog feels safe and secure in a properly sized dog bed. The best bean bag chair for a dog should have high-denier polyester because it is durable, comfortable, and water-resistant.
9. Are bean bags good for people with back problems?
Bean bag chairs are good for people who have problems with their backs and joints. Bean bag chairs support the entire spine, which is why so many people find they have increased mobility after sitting in a bean bag chair instead of a firm chair. Some people have even found relief from headaches by sitting in a bean bag chair rather than a typical chair.
10. What is the best fabric choice for a bean bag?
The best fabric choice for a bean bag chair is dependent on where you plan to put it. If you are using it outdoors, it should have a fabric that is weather-resistant. If you put it in a classroom, the fabric should be durable and easy to clean. Luxurious fabrics are good choices for living rooms and bedrooms, but only if no one will eat in them.
11. Should I buy a bean bag chair for a gamer?
Yes. People who play video games find real comfort playing in a bean bag chair. Since they conform to the spine, gamers get plenty of support for the back and neck. They give gamers plenty of space to move around while they play.
12. Should I buy a bean bag ottoman?
If you want an ottoman that can serve several purposes, then yes. A bean bag ottoman can be a footrest as well as a chair. Some are sturdy enough that they can support trays. If you buy one with a washable cover, you won't have to worry if someone spills on it or if dirty feet get on it.
13. Can I use a bean bag chair outside?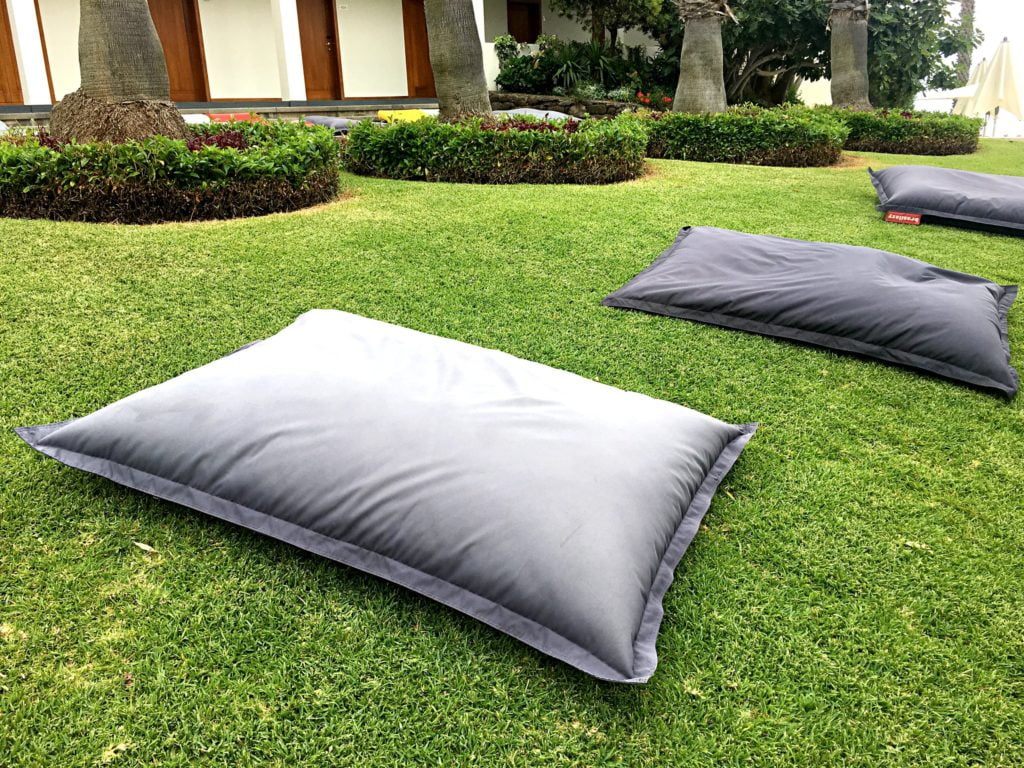 There are several bean bag chairs that can be taken outside. With outdoor fabrics or easy-clean fabrics like twill or cotton or olefin (a weather-resistant and fade-resistant textile), you can take your favorite bean bag to the beach or to an outdoor movie night.
14. Can I use a bean bag chair near a swimming pool?
Yes. There are several fabrics that can withstand being dragged on a concrete deck or sat in with a wet swimsuit. Chlorine is the biggest problem when it comes to placing a bean bag chair near a pool. Chlorine is bleach and it can fade or stain most fabrics. Bean bags designed for outdoor use are made of fabrics that resist fading and stains, so chlorine in the pool shouldn't affect them.
Interestingly, there are also bean bag chairs that can float in a pool. The filler is sealed so it does not get moldy. After the seasons change, you can bring the float inside after it has dried.
15. Are bean bag chairs good for pregnant women?
It can be difficult for pregnant women to find comfort in any chair, but bean bag chairs provide plenty of comfort because they conform to the body. They give support for the entire spine and can be moved into nearly any comfortable shape which is ideal for pregnant women as their bodies change throughout their three trimesters. The biggest problem I had when pregnant was getting out of ours!
They are also helpful for women after they have given birth. They are relaxing and supportive for new mums when they are holding their babies. I used to breast feed in ours and found it supported my back well.
16. Is a bean bag chair good for my back?
Poor posture and uncomfortable chairs can exacerbate low back pain. Bean bag chairs are comfortable and they support the spine from top to bottom. They relieve pressure on the low back, because of the support they provide elsewhere. Many people with back pain have found relief while sitting in a well-made, ergonomic bean bag chair.
17. Are bean bag chairs good for classrooms?
In most classrooms, children are stuck sitting in uncomfortable chairs that provide little support. Instead of forcing them to suffer on hard plastic-molded chairs, why not add bean bags to your room? They provide comfortable seating that can be easily moved around the room for different instructional tasks. While sitting in bean bag chairs, children can do classroom on their computers or using clipboards. With teachers wanting flexible seating, bean bags are the perfect choice.
18. Are bean bag chairs ergonomic?
When furniture is ergonomic, it is designed with the idea that it can increase productivity. All too often, furniture in the workplace is uncomfortable and can actually decrease productivity. Bean bag chairs are ergonomic because they provide spinal support as well as plenty of comfort, so people can work more efficiently.
Bean bag chairs are inviting and they are so comfortable that people do not want to get out of them. They look forward to sitting in them and workplaces that offer them to their employees tend to have happy employees who get their work done.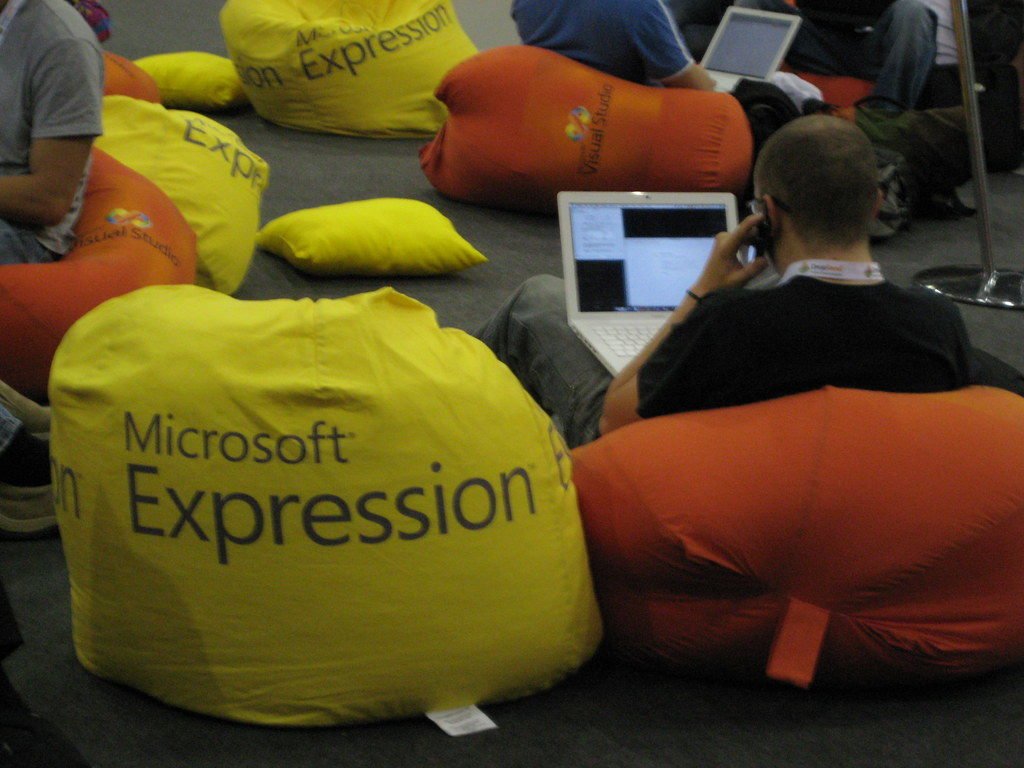 19. Can you pop a bean bag chair?
Bean bag chairs from the 70s and 80s often had issues with popping, which caused the tiny pellets to create big messes that were difficult to clean. I remember this well, my bean bag as a child had this problem. Today's bean bag chair is designed to keep the pellets inside, so they have liners that are difficult to puncture. If you have a poorly made bean bag chair, there is a chance that a sharp object or a pet's claws could puncture it, but the better ones are puncture-resistant. Our children give ours a good battering and we've never had an issue.
20. Is it difficult to get out of a bean bag chair?
For some people, the answer is yes, but it is dependent on the bean bag chair. There are some bean bag chairs that are low to the ground, so some people, especially people with mobility issues and pregnant women can struggle. However, there are plenty of bean bag chairs that have a higher profile, so they are not any more difficult to get out of than a typical chair.