When you've had a baby or babies, getting ready for a special occasion can be seriously hard work. You don't have the time to shop like maybe you did in the past, you don't have the same kind of disposable income you perhaps had in the past, and quite frankly the thought of having to squeeze your post baby body into something snazzy for that special event fills you with dread on multiple levels.
For some women this feeling will pass as little ones get older and they return to the same or almost the same body size and shape as before. For many others this can go on for years.
Perhaps you've found that perfect outfit but you just don't feel comfortable in it or you don't feel it's very flattering. It might be that there is nothing wrong with the outfit in actual fact and you just need to make a few under-outfit modifications.
Bras
Breasts take a battering when it comes to having babies. They expand during pregnancy, they balloon within a few days of birth and then if breastfeeding, they are sucked, pulled, clawed and possibly bitten a few times as well.
When they've served their feeding purpose they can be left looking rather deflated. I used to laugh when my mum used to say that hers disappeared into her armpits when she lay down. Now, after breastfeeding four children, mine do just that!
Many women feel that post-baby boobs are not in the right place somehow, perhaps hanging lower or further apart than they once did. That alone can affect how an outfit looks and feels, so why not invest in a decent bra and locate them firmly back in their rightful location?
Lots of mums don't have a spare small fortune to spend on lingerie – funny that, BUT a decent bra can change your life…well, you know what I mean anyway, it can totally change the way you feel for the better, so investing in a great bra is important.
I absolutely love LE MYSTERE INFINITE POSSIBILITIES PLUNGE BRA, which comes in nude and black and a range of sizes. This is a plunge bra that has six possibilities in its design and fit. The straps can be positioned to be worn as a halter, two cross-shaped back straps, and in three different locations as a regular shoulder strap bra. This makes it perhaps the last bra you will ever need, with a flattering fit, cleavage enhancing features and memory foam cups for a gentle figure highlighting effects and the perfect level of comfort.
Hands down, this is the best bra I've ever owned and it most certainly gets the breasts out of the armpits, but leaving a natural look.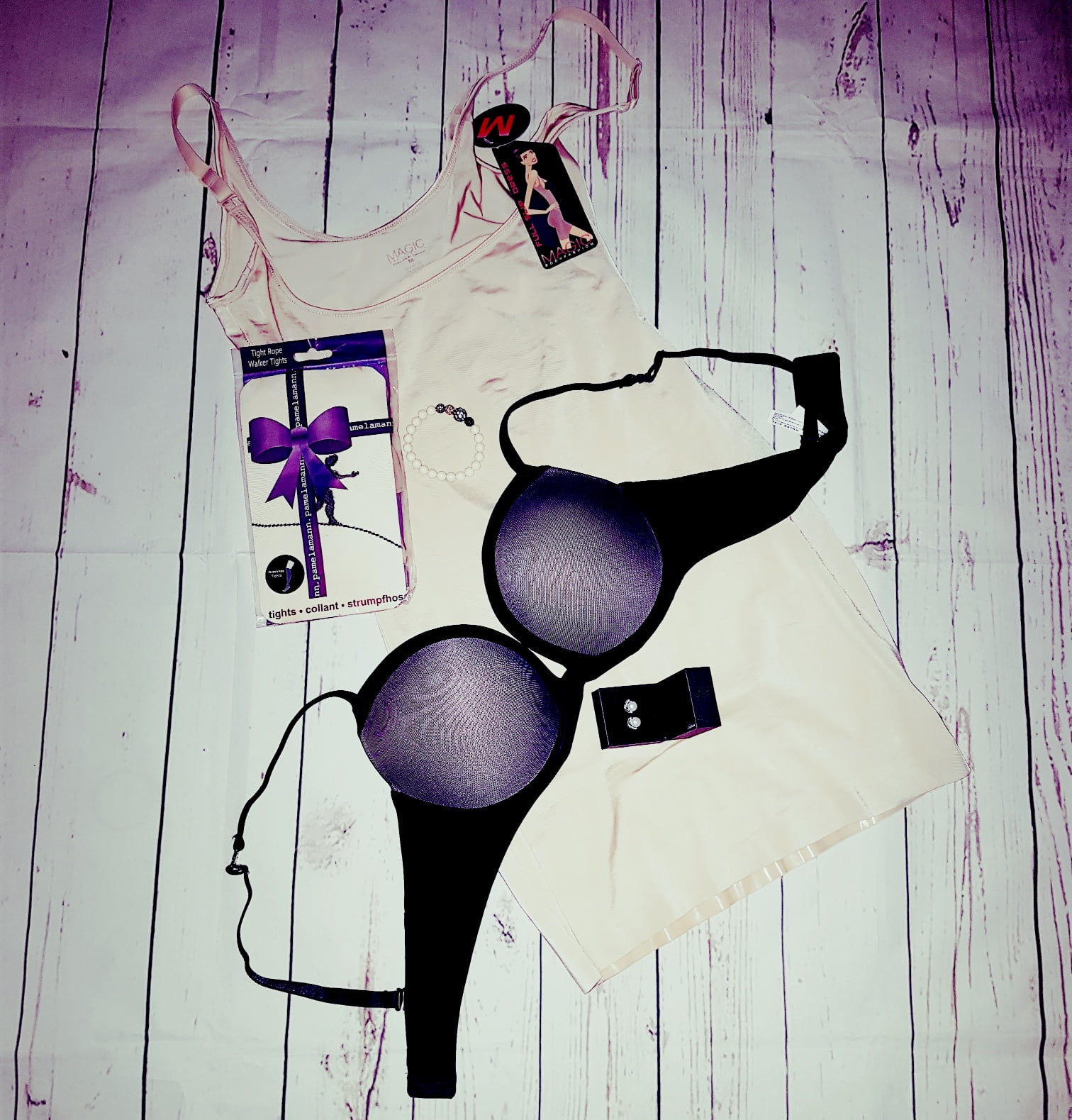 Tights
So tights are the kind of undergarments that many people have this love/hate relationship with. Some people can't bear them and others can't bear the thought of not wearing them. I must admit that unless it's the height of summer I do prefer tights vs bare legs. Mainly because they make me feel more covered up and a bit more pulled in I think – it's a total lack of body confidence thing.
Tights can also be a total nightmare thought can't they? If they are a bit too big or a bit too small you can end up walking like you've wet yourself within a few minutes as they've made their way down to your knees. Whose stupid idea was it to wear tights anyway you scream in your head.
Now some tights are clearly better than others but often you have to go through a few bad pairs to find some you really like. Sound like any other area of your life?
I'm pretty much in love with the Cellulite Control Tights from Falke, they tick all the boxes, although I'm rather paranoid about ripping them given the price tag. They make legs look and feel so much better, so when you put that dress on over the top the overall look dramatically improves. If you lack confidence over the appearance of your legs these tights are for you.
Falke have developed their cellulite control tights which not only work on your skin to prevent that cellulite from getting a hold but they are a control tight too so they hold in your tummy and shape your legs. They are sheer and transparent to wear with a natural matt finish. All the way through the fabric Falke have worked their magic so that the skin is stimulated thus preventing cellulite.
Slip
Have you tried wearing shapewear under a dress and been totally disappointed with the overall effect the shapewear had. Did it simply move your lumps and bumps to somewhere else? Was it so uncomfortable you had to take it off half way through the evening?
Shapewear can be a nightmare but under a dress the shapewear that comes like a short dress or slip can be a good bet. Depending on the style of your dress, you should choose either a full body shaper or a high waist shapewear to ensure that it is not visible under your clothing. It might also depend what bra you want to wear, as some come with them built in and others like the Magic Body Fashion Full Slip Dress, sit below the bra, so you can still wear your bra of choice under your outfit.
The Full Slip Dress stays in place because of the inner slip and also special silicone touch at the bottom of the dress. In the back it gets rid of any excess back rolls and off course any other bits over your entire body, meaning it can transform the look and feel of whatever you wear on top. You can get this in black or nude.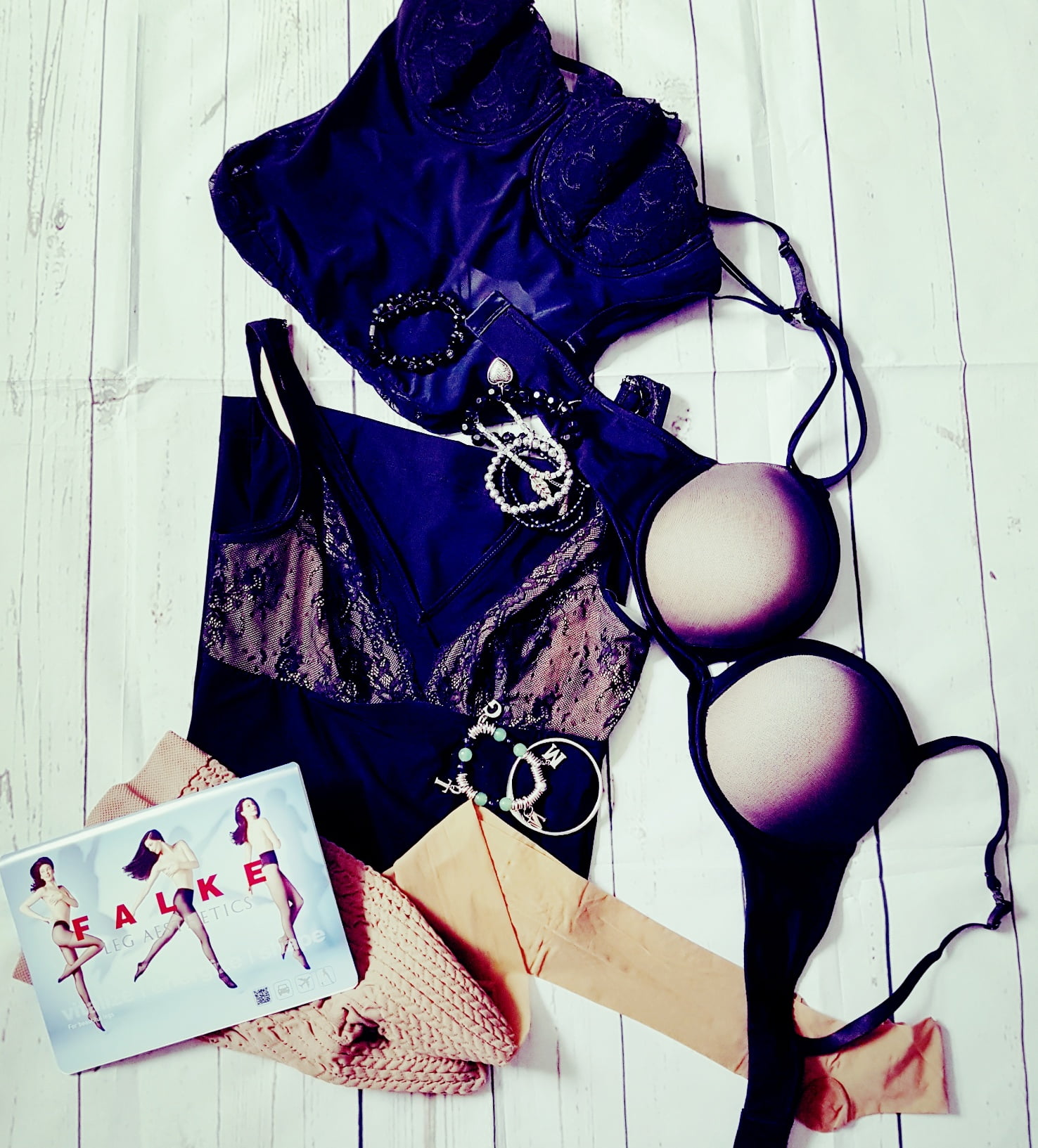 If you are after a firming slip that doesn't look like…well…a firming slip you need to try the Charnos Firming Slip With Lace. This is super comfy, very effective but also looks pretty. I've never seen 'pretty' shapewear but this ticks that box. You can wear this with or without a separate bra, it will depend very much what the outfit is like, but this is a winner!
It's never easy having to get dressed up and head out to an 'occasion' when you don't feel quite like yourself, lack confidence or have an outfit you like that just doesn't fit quite right – let's fake it until we make it!